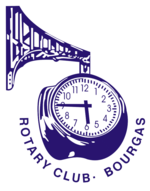 Ротари Клуб Бургас, Дистрикт 2482 България
Ротари Клуб Бургас е един от трите най-стари клуба на РОТАРИ в България.
Ротари Клуб Бургас е създаден през 1937-ма година.
През 1941 година прекратява дейността си.Ротари клуб Бургас е възстановен през 1991 година.
Ротари Интернешънъл – най-старата организация с идеална цел има представителства в почти всички страни в света. Членовете на РОТАРИ се подбират сред лидерите в бизнеса и професиите. Ротарианците доброволно отдават време и умения в службана обшеството. Мотото на Ротари Service Above Self (За безкористна служба) въплъщава хуманния дух на неговите членове. Дружбата между ротарианците и значимите обществени и международни проекти са характерни за Ротари в целия свят.
Елект президент и борд 2011-2012
Елект президент на РК Бургас - Илко Бонев (президент 2012-2013).
Борд 2011-2012: Секретар Мария Хаджипетрова, Вицепрезидент Иван Данев, Церемониалмайстор Веселин Пренеров, Ковчежник Любомир Георгиев.
Президент (избран преди 1 година) ще е Герхард Бенциен.
Пастпрезидент (настоящият президент) Стефко Русев.
Новини от Rotary International
»
Member spotlight: the book on brad rubini
- From the July 2016 issue of The Rotarian When Brad Rubini was reading a bedtime story to his seven-year-old daughter, Claire, she asked him why he was reading the words wrong. "I'm dyslexic, so I thought I was reading the words right," recalls Rubini, a past president of the Rotary Club of Toledo, Ohio. After he explained his problem, she began to read to him on most nights instead. "She was a voracious reader and storyteller. She was always telling stories, even when she was a toddler," he says. Three years later, while Claire was away at summer camp, she died unexpectedly as a result of a...
»
Health: survival of the fitbittest
- From the July 2016 issue of The Rotarian In the seven days from 7 through 13 March, I took precisely 84,250 steps. This amounted to 39.85 miles. I also climbed 288 floors and burned 22,055 calories. I'm fairly certain that you, gentle readers, could not care less about those statistics. Unless, of course, you're one of the millions of gentle readers who have joined America's fitness self-surveillance movement by strapping a tracking device to your wrist. In which case, you are probably pretty darned impressed by my stats. I should therefore add a few crucial caveats. Caveat No. 1: That week...
»
John germ: champion of chattanooga
- From the July 2016 issue of The Rotarian Just before John Germ dropped by, Rick Youngblood took a deep breath. "You want to match his energy," he says, "but he makes it hard to keep up." Youngblood is the president and CEO of Blood Assurance, a regional blood bank in Chattanooga, Tenn., that Germ helped found in 1972. After his visit with Youngblood, Germ strode between mountains of empty bottles and cans at Chattanooga's John F. Germ Recycling Center at Orange Grove, which he designed, before he drove to a construction site and popped a cork to dedicate a Miracle League field where special...
»
Cynthia salim: former rotary scholar makes clothing with a conscience
- From the July 2016 issue of The Rotarian The way Cynthia Salim sees it, the fashion industry doesn't have much to offer a young, socially conscious woman like her when it comes to work clothes. "The fashion industry often does 'sexy' or 'fun' or 'hip,' and things that encourage frequent purchases," the 29-year-old says. "It's very rare that the design community will design something that will make a young woman look credible and influential as well as timeless." Add "and is ethically made" to that list, and it becomes a tall order that Salim became increasingly frustrated trying to fill when...
»
Member interview: susan davis uses social entrepreneurship to fight poverty
- From the July 2016 issue of The Rotarian Susan Davis has devoted the past three decades to using social entrepreneurship and microfinance to address extreme poverty, particularly in Bangladesh. A Rotary Foundation Ambassadorial Scholarship in the early 1980s allowed her to study international relations at the University of Oxford. A decade ago, she co-founded BRAC USA (previously the Bangladesh Rehabilitation Assistance Committee) to help the world's poor through self-empowerment. She is co-author, with journalist David Bornstein, of the book Social Entrepreneurship: What Everyone Needs to...
»
Rotary changes travel company
- Rotary International has selected Raptim Humanitarian Travel as its official travel management company. The connection between Raptim and Rotary will allow them to offer more services and support to those traveling on Rotary business. "In selecting Raptim, we found an agency that shared our DNA and understood how best to meet the needs of our volunteers and staff," says Robert Mintz, Rotary's global travel manager. Rotarians will work with Raptim to arrange Rotary-related travel through Rotary International Travel Service, known as RITS, beginning 24 June. "We are honored to collaborate with...
»
Changes to the official directory
- The CD and full-length print version of the Official Directory will no longer be available starting for the 2016-17 Rotary year. A full-length PDF version will be made available and is only accessible with a My Rotary account. The front portion of the directory will be printed in a smaller, spiral bound edition. This version may be purchased for US$10 by contacting our Rotary staff or calling 847-866-4600.
»
What you don't know about the campaign to end polio
- From the July 2016 issue of The Rotarian When was the last time there was polio in Europe? If you guessed 2002, the year the region was certified polio-free, you were wrong. The last time polio affected a child in Europe was last summer. In 2015, two Ukrainian children were diagnosed with paralytic polio, and, given the way the disease manifests itself, that means many more were likely infected and didn't show symptoms. At least one Western news outlet deemed the outbreak "crazy" – but the reality is that no place on earth is safe from polio until the disease is eradicated everywhere. Ukraine...
»
Open to interpretation
- Whenever I arrive in a new country, one of the first places I go is a bookstore. I do this for several reasons. Having spent much of my life and income in them, I always find them to be comforting spaces. And they often stock more specific maps and guides than you can get outside the country. But the real reason I love these places is that by scanning the titles for sale – just gazing down the spines – I can get a glimpse of how people in that country see themselves. What stories do they tell? What stories do they read? What books do they print? And what do they import from abroad? And though...
»
Ebay to donate share of live auctions proceeds to rotary
- Rotary members, their families and friends can support Rotary's work by bidding on antiques, artwork, jewelry, and collectibles through eBay Live Auctions events. Each month, Rotary will promote on its social media outlets a set of upcoming Live Auctions events, and eBay, the world's largest auction website, will donate a portion of all sale proceeds from those events to Rotary. Live Auctions events enable buyers to participate in auctions across the United States -- held at such auction houses as Sotheby's, Swann, and Freeman's -- without leaving home. Under this proceeds-sharing...