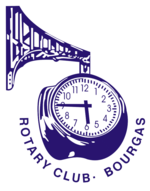 Ротари Клуб Бургас, Дистрикт 2482 България
Ротари Клуб Бургас е един от трите най-стари клуба на РОТАРИ в България.
Ротари Клуб Бургас е създаден през 1937-ма година.
През 1941 година прекратява дейността си.Ротари клуб Бургас е възстановен през 1991 година.
Ротари Интернешънъл – най-старата организация с идеална цел има представителства в почти всички страни в света. Членовете на РОТАРИ се подбират сред лидерите в бизнеса и професиите. Ротарианците доброволно отдават време и умения в службана обшеството. Мотото на Ротари Service Above Self (За безкористна служба) въплъщава хуманния дух на неговите членове. Дружбата между ротарианците и значимите обществени и международни проекти са характерни за Ротари в целия свят.
Елект президент и борд 2011-2012
Елект президент на РК Бургас - Илко Бонев (президент 2012-2013).
Борд 2011-2012: Секретар Мария Хаджипетрова, Вицепрезидент Иван Данев, Церемониалмайстор Веселин Пренеров, Ковчежник Любомир Георгиев.
Президент (избран преди 1 година) ще е Герхард Бенциен.
Пастпрезидент (настоящият президент) Стефко Русев.
Новини от Rotary International
»
Un chief ban ki-moon opens korea convention
- United Nations Secretary-General Ban Ki-moon was among the first to welcome Rotary members and friends to the 107th Rotary Convention, heralded as one of the largest-ever gatherings of Rotarians and the most multicultural assembly of nonprofit leaders in Korea. He offered a message of gratitude: "Rotarians do remarkable work around the world," Ban told the thousands of attendees gathered at KINTEX, the Korea International Exhibition and Convention Center in Goyang city, on the outskirts of Seoul. "You help the United Nations reach our goals, and you help the world understand the United...
»
Global movement needed to reverse water crisis
- This year's World Water Summit on 27 May in Seoul highlighted the progress being made: Over the last 25 years, more than 2.5 billion people gained access to improved drinking water, and 2 billion who didn't have adequate sanitation now do. Child deaths from water-related diseases dropped from 1.5 million to just over 600,000. The UN Millennium Development Goals' target for clean drinking water was met five years ahead of schedule. But for the 1.8 billion people whose drinking water remains contaminated and the 2.4 billion without access to proper sanitation, progress is still too slow, said...
»
2016 rotary convention photo gallery
- Browse exclusive photos of convention highlights from Korea.
»
Rotary shop on new platform
- As of 1 May, the Rotary shop will be available on a new platform. We may experience some downtime during the transition and apologize for any inconvenience. If you have any questions, please contact us at shop.rotary@rotary.org or at 847-866-4600.
»
Rotary districts mobilize to support survivors of ecuador, japan quakes
- After a series of three earthquakes -- two in Japan and one in Ecuador -- killed hundreds of people, injured thousands, and caused billions of dollars in damage late last week, Rotary members in those regions have created disaster relief funds to help survivors. In Ecuador, the powerful 7.8-magnitude quake that struck Saturday night has killed more than 400 people, with 2,500 injured. Those figures are expected to rise. Rotary District 4400 established a service fund to raise money for relief efforts. Contact District Governor Manuel A. Nieto Jijon for information on how to donate. In Japan,...
»
Get live updates from the council on legislation
- Get live updates and vote totals from the Council on Legislation on Rotary.org beginning on 11 April. Representatives from Rotary clubs worldwide will gather in Chicago 10-15 April to consider changes to the policies that guide Rotary International and its member clubs.  Many of this year's proposed changes are designed to increase membership by giving clubs greater flexibility in the timing and the nature of their meetings. Other proposals would amend membership requirements.
»
Unesco-ihe scholarship applications now available
- The Rotary Foundation and UNESCO-IHE Institute for Water Education are offering up to 10 scholarships for graduate study at UNESCO-IHE's Delft campus in the Netherlands. The aim is to increase the number of trained professionals who can devise, plan, and implement water and sanitation solutions in developing areas. The scholarships also are designed to promote long-term relationships between Rotary members and skilled water and sanitation professionals. Scholars will receive a Master of Science degree in urban water and sanitation, water management, or water science and engineering. The...
»
Ensure recognition for your interact clubs
- Interact clubs are making a positive difference in schools and communities around the world. Leaders of sponsor Rotary clubs and districts should make sure their Interact clubs get the recognition they deserve by verifying that they qualify for a Presidential Citation. First, ensure that the Interact club status is active in Rotary's database by checking the Listing of Club-Sponsored Organizations report in Rotary Club Central. If a sponsored club is not listed, submit the Interact Club Certification Form by 1 March. Then, verify by 15 April that your Interact clubs have qualified for the...
»
Ebay to donate share of live auctions proceeds to rotary
- Rotary members, their families and friends can support Rotary's work by bidding on antiques, artwork, jewelry, and collectibles through eBay Live Auctions events. Each month, Rotary will promote on its social media outlets a set of upcoming Live Auctions events, and eBay, the world's largest auction website, will donate a portion of all sale proceeds from those events to Rotary. Live Auctions events enable buyers to participate in auctions across the United States -- held at such auction houses as Sotheby's, Swann, and Freeman's -- without leaving home. Under this proceeds-sharing...
»
Beware of new email scam claiming to be from foundation chair klinginsmith
- A new email purporting to be from Rotary Foundation Trustee Chair Ray Klinginsmith is targeting Rotary members. The email falsely claims that members can become End Polio Now ambassadors if they email club information to a Gmail address within 48 hours. The fraudulent email has the subject line "BECOME AN END POLIO AMBASSADOR" and is sent from a fake email address. This is a scam. Rotary staff is working to resolve the issue. Avoid being the victim of scams by deleting any email that appears suspicious.