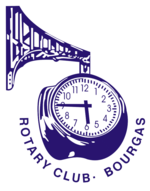 Ротари Клуб Бургас, Дистрикт 2482 България
Ротари Клуб Бургас е един от трите най-стари клуба на РОТАРИ в България.
Ротари Клуб Бургас е създаден през 1937-ма година.
През 1941 година прекратява дейността си.Ротари клуб Бургас е възстановен през 1991 година.
Ротари Интернешънъл – най-старата организация с идеална цел има представителства в почти всички страни в света. Членовете на РОТАРИ се подбират сред лидерите в бизнеса и професиите. Ротарианците доброволно отдават време и умения в службана обшеството. Мотото на Ротари Service Above Self (За безкористна служба) въплъщава хуманния дух на неговите членове. Дружбата между ротарианците и значимите обществени и международни проекти са характерни за Ротари в целия свят.
Елект президент и борд 2011-2012
Елект президент на РК Бургас - Илко Бонев (президент 2012-2013).
Борд 2011-2012: Секретар Мария Хаджипетрова, Вицепрезидент Иван Данев, Церемониалмайстор Веселин Пренеров, Ковчежник Любомир Георгиев.
Президент (избран преди 1 година) ще е Герхард Бенциен.
Пастпрезидент (настоящият президент) Стефко Русев.
Новини от Rotary International
»
Restoring vision to hundreds in china
- Seeing an elderly Tibetan woman weep with joy when cataract surgery restored her vision after 10 years is the kind of moment Dave Razo will never tire of. For several summers Razo, a member of the Rotary Club of Warner Robins, Georgia, USA, traveled to rural northwest China with a team from Georgia-based nonprofit Gansu Inc., to provide free sight-restoring cataract surgery to some of the country's poorest residents. In 2012, after 22 years and 6,000 successful procedures, Gansu's founder, ophthalmologist William Conrad, retired and discontinued the organization's operations. But Razo didn't...
»
The rotary foundation earns coveted 4-star rating
- The Rotary Foundation earned a 4-star rating from Charity Navigator, the largest and most prestigious independent evaluator of nonprofits in the United States. "Our foundation continues to operate at the highest ethical standard," said Rotary Foundation Trustee Chair John Kenny. "We are proud that Charity Navigator has recognized our commitment to accountability and transparency for the seventh straight year." The 4-star rating, the highest that Charity Navigator awards, recognizes sound fiscal management, accountability, and transparency. Charity Navigator evaluates thousands of nonprofits...
»
World polio day: health officials laud polio eradication achievements, point to disease's endgame
- After a year of shrinking polio cases worldwide, the crippling disease is now on the cusp of being eradicated, said top health officials at Rotary's second annual World Polio Day event on 24 October. At a special Livestream program -- World Polio Day: Make History Today -- Rotary leaders joined global health experts and celebrity singers to hail the progress of the Global Polio Eradication Initiative. After nearly 30 years, the GPEI, which includes Rotary, the World Health Organization, UNICEF, U.S. Centers for Disease Control and Prevention, and the Bill & Melinda Gates Foundation, is on...
»
Dynamic young club uses social media to grow
- Erin Mills had just finished teaching for the day in Montevideo, Uruguay, when her smartphone buzzed with a message. An impromptu gathering to watch Uruguay's World Cup soccer match was being organized. Through the power of a mobile messaging app, a majority of the Rotary Club of Plaza Matriz had soon assembled at a member's home to munch on baked goods and chips while rooting for their national team. That enthusiasm and ability to draw a crowd has made the club, which just received its charter in July, a success in the country's capital city. Made up almost entirely of young professionals,...
»
Previewing the world polio day livestream event
- Rotary celebrates World Polio Day on 24 October with a Livestream event featuring expert speakers and celebrity performers. Hosted by Time magazine science and technology editor Jeffrey Kluger, the Chicago event also includes a global status update on the fight to end polio and the challenges that remain, as well as information about joining Rotary's historic campaign. The program, being held before a live audience at 18:30 Chicago time (UTC-5), includes a performance from Tessanne Chin, 2013 winner of the TV show "The Voice," an introductory message and videotaped performance by reggae star...
»
Creating works of art helps refugee children repair their lives
- When asked to describe his future, a refugee child from Iraq draws a picture of himself as a doctor. Another child uses colorful paints to depict happy memories of his former life in Iraq. Both children are among the 200,000 displaced Iraqis who now live in Jordan, a country that has become a safe haven for those fleeing oppression and war in neighboring Palestine, Syria, and Iraq. Alexandra Dawley, a former volunteer with the Collateral Repair Project in Jordan, emphasizes how something as simple as an art project can help young refugees adjust to their new lives in a foreign country. With...
»
Chat with food experts on twitter about alleviating hunger
- Hunger affects more than 800 million people worldwide, according to the United Nations' World Food Programme, and one-third of all the food grown every year goes to waste. Together, we can change that. On World Food Day, Thursday, 16 October, join a conversation on Twitter from 12:00 to 13:00 Chicago time (UTC-5), using the hashtag #RotaryHunger. During the chat, food experts will talk about ways to alleviate hunger and malnutrition in your community and around the world. Rotary (@Rotary) will moderate the chat, and experts from organizations including Rotary First Harvest (@RFHarvest), the...
»
Photo essay: rotary's 2014 women of action
- This year's Women of Action honorees were selected by Rotary senior leaders and endorsed by the White House. All members of clubs in the U.S., the women were recognized for their humanitarian service projects, which affect the lives of millions of people around the world. Watch the women of action event held at the White HouseRead more about the women and why they were honoredRead more about the event at the White HouseRead RI Director Julia Phelps' take on the honored women
»
Partners build community center and health clinic in impoverished mexico neighborhood
- Four years ago, Rotary member Moonyeen King decided to take action to help residents of the impoverished neighborhood of Tepehua, located in Chapala, Jalisco, Mexico, who faced daily struggles with crime, malnutrition, and limited access to health care. King, together with Susan Netherton and Gin Pelzl, fellow members of the Rotary Club of Ajijic, turned an abandoned building into the Tepehua Community Center. For its first year, the center provided a soup kitchen every Friday to feed over 200 women and children. That enabled King and her fellow Rotary members to gain the trust of the...
»
The white house honors rotary women for their humanitarian service
- Senior Rotary leaders gathered Tuesday at the White House to honor 10 women for their service projects, an event attended by members of U.S. President Barack Obama's senior staff. The Rotary members presented their projects, in the hopes of creating new inroads for government partnerships and support. "This is recognition of the great work that they do but also serves as a great vehicle to inspire others to do similar kinds of things," said Rotary General Secretary John Hewko. "One of the things we're doing a better job of is sharing our story to the non-Rotary world." The honorees were...