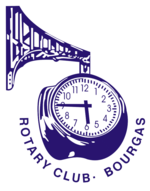 Ротари Клуб Бургас, Дистрикт 2482 България
Ротари Клуб Бургас е един от трите най-стари клуба на РОТАРИ в България.
Ротари Клуб Бургас е създаден през 1937-ма година.
През 1941 година прекратява дейността си.Ротари клуб Бургас е възстановен през 1991 година.
Ротари Интернешънъл – най-старата организация с идеална цел има представителства в почти всички страни в света. Членовете на РОТАРИ се подбират сред лидерите в бизнеса и професиите. Ротарианците доброволно отдават време и умения в службана обшеството. Мотото на Ротари Service Above Self (За безкористна служба) въплъщава хуманния дух на неговите членове. Дружбата между ротарианците и значимите обществени и международни проекти са характерни за Ротари в целия свят.
Елект президент и борд 2011-2012
Елект президент на РК Бургас - Илко Бонев (президент 2012-2013).
Борд 2011-2012: Секретар Мария Хаджипетрова, Вицепрезидент Иван Данев, Церемониалмайстор Веселин Пренеров, Ковчежник Любомир Георгиев.
Президент (избран преди 1 година) ще е Герхард Бенциен.
Пастпрезидент (настоящият президент) Стефко Русев.
Новини от Rotary International
»
Rotary aids day event turns spotlight on world's deadliest infectious disease
- The recent Ebola outbreak in West Africa, the worst ever, has claimed several thousand lives and generated worldwide concern. But its impact pales in comparison to that of AIDS, which, despite advances in treatment, still kills more than a million people a year, the majority of them in Africa. "Even with the Ebola outbreak at its worst expected levels, it's never going to reach what we've seen with the HIV/AIDS epidemic," said Dr. Timothy B. Erickson, director of the Center for Global Health at the University of Illinois at Chicago, speaking at Rotary's World AIDS Day event in Evanston on 1...
»
Statement by rotary international on the deadly school attack in pakistan
- Rotary International condemns the horrific attack that killed more than 130 schoolchildren and wounded over 100 of their classmates in Peshawar, Pakistan. We believe that children everywhere have the basic right to receive an education in an environment unthreatened by violence or fear. Rotary extends our heartfelt sympathy to all of the families in Pakistan, including those of seven Rotary members, who have lost children as a result of this unfathomable tragedy. We stand with them in mourning their loss. Gary C.K. Huang, PresidentRotary International
»
Indoor air pollution linked to millions of deaths
- After decades dreaming about the Himalayas, Rotary member George Basch went on his first trek through the mountains in 2001, when he was 64. A member of the Rotary Club of Taos-Melagro in New Mexico, USA, Basch found that the experience was even more than he had hoped. "My expectations were high, and dramatically exceeded," he remembers. But a less-than-pleasant aspect of the experience was the indoor smoke pollution he encountered in the guest houses and private homes he visited. Many families in the Himalayas use rudimentary cookstoves or, in some cases, an open fire pit inside the home to...
»
Rotary staff members bond over miles to end polio bike ride
- For six staff members from Rotary headquarters in Evanston, the fight to eradicate polio has become personal. Together, they biked the physically grueling 104-mile (167-kilometer) Tour de Tucson in Arizona, USA, collectively raising more than $20,000 for polio eradication while putting their bodies and minds through a feat of endurance. For the tightknit group, the experience was about more than just raising money and crossing the finish line. It was about learning about each other and what Rotary members are doing to rid the world of this crippling disease. They advocated together, trained...
»
How a simple school project in india became a global grant
- Two years ago, U.S. Rotary members in Maine set out to improve the education system in Bikaner, Rajasthan, an Indian city near the border of Pakistan. The Rotary Club of Kennebunk Portside chose Bikaner because club member Rohit Mehta was originally from the area and had connections there. Mehta put the club in contact with Rotarians in India to provide desks for four government-run schools. But when community leaders returned with a request for more desks, the Maine Rotarians decided they had to think bigger. The Rotary Foundation had rolled out its new grant model, which required that the...
»
Business camps prepare students to become entrepreneurs
- Before college, business school, or their first jobs, more than 2,000 U.S. high school students are learning what it takes to become tomorrow's brightest business leaders. Each year, nearly 25 Rotary clubs and districts conduct three-day educational retreats in a program known as Camp Enterprise. At each retreat, seasoned business professionals and entrepreneurs teach 100 or so area high school juniors how to develop, launch, and operate a successful business in a free enterprise economic system. The intensive weekend camps, funded entirely by the clubs and offered at no cost to participants...
»
Miles to end polio: $6 million crosses the finish line for polio eradication
- Rotary General Secretary John Hewko and six RI staff members bicycled 104 miles in Tucson Arizona, USA, on Saturday, for the Miles to End Polio event, raising more than $6 million for polio eradication. The money raised by Rotary will receive a two-to-one match from the Bill and Melinda Gates Foundation. In addition to the team from Evanston, 100 Rotary member riders took part in the ride. The fundraising ride is part of the annual El Tour de Tucson bike event in Tucson, Arizona, USA. The race attracts more than 9,000 cyclists a year, making it one of the top cycling events in the U.S. The...
»
Rotary day at the united nations highlights the strength of partnerships
- To strengthen their 69-year-old partnership, leaders from Rotary and the United Nations met this month in New York City for Rotary Day at the United Nations. The two organizations began working together with the aim of maintaining peace after World War II. Today, the relationship has evolved to include humanitarian work in areas like gender equality, child and maternal health, and disease treatment and prevention. While the UN's Millennium Development Goals are set to expire in 2015, its leaders are preparing for an even more ambitious humanitarian agenda of eradicating extreme poverty by...
»
A major breakthrough against polio
- Rotary and its partners in the Global Polio Eradication Initiative (GPEI) are approaching a significant milestone: the eradication of type 3 wild poliovirus. The last case of polio caused by the type 3 virus was reported in Yobe, Nigeria, on 10 November 2012. "We may have eradicated a second of three; that's a major milestone," said Dr. Stephen Cochi, a senior adviser at the Center for Global Health at the U.S. Centers for Disease Control and Prevention, speaking to the BBC. Rotary has played an important role in bringing type 3 polio close to extinction. PolioPlus grants have provided key...
»
Rotary's world polio day live-streamed event is a huge success
- More than 23,000 viewers in 24 countries tuned in to Rotary's World Polio Day event, streamed live on 24 October. Health officials including James Alexander, senior medical epidemiologist for the U.S. Centers for Disease Control and Prevention, gave an update on the polio eradication campaign and praised Rotary's achievements to date. Rotary has contributed more than $1.2 billion to polio eradication since 1979. For World Polio Day, Rotary released $44.7 million in grants to fight the disease in Africa, Asia, and the Middle East. In addition to the update, the event included entertainment by...