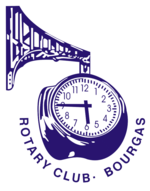 Ротари Клуб Бургас, Дистрикт 2482 България
Ротари Клуб Бургас е един от трите най-стари клуба на РОТАРИ в България.
Ротари Клуб Бургас е създаден през 1937-ма година.
През 1941 година прекратява дейността си.Ротари клуб Бургас е възстановен през 1991 година.
Ротари Интернешънъл – най-старата организация с идеална цел има представителства в почти всички страни в света. Членовете на РОТАРИ се подбират сред лидерите в бизнеса и професиите. Ротарианците доброволно отдават време и умения в службана обшеството. Мотото на Ротари Service Above Self (За безкористна служба) въплъщава хуманния дух на неговите членове. Дружбата между ротарианците и значимите обществени и международни проекти са характерни за Ротари в целия свят.
Елект президент и борд 2011-2012
Елект президент на РК Бургас - Илко Бонев (президент 2012-2013).
Борд 2011-2012: Секретар Мария Хаджипетрова, Вицепрезидент Иван Данев, Церемониалмайстор Веселин Пренеров, Ковчежник Любомир Георгиев.
Президент (избран преди 1 година) ще е Герхард Бенциен.
Пастпрезидент (настоящият президент) Стефко Русев.
Новини от Rotary International
»
Diving in to social media
- Paul didn't know much about social media, but when it came time to publicize his club's global "swimarathon," he dove right in. Using a combination of social media tools, Paul got over 200 Rotary clubs on six continents to join the marathon, raised more than $100,000 for polio eradication, and attracted 16 new members.
»
The rotary foundation receives coveted 4-star rating from charity navigator
- The Rotary Foundation earned a 4-star rating from Charity Navigator, the largest and most prestigious independent evaluator of nonprofits in the United States. The 4-star rating, the highest that Charity Navigator awards, recognizes sound fiscal management and commitment to accountability and transparency. Charity Navigator evaluates thousands of nonprofits each year, and only one of four earns 4 stars. This year's top distinction marks the Foundation's sixth straight, placing it in the top 3 percent of U.S.-based charities. In a letter to the Foundation, Ken Berger, the president of Charity...
»
Solutions for your website issues
- Since the website launched at the end of August, more than 27,000 people created an account on My Rotary. We have been working to correct several issues you may have encountered while using the new website. If you still have problems, please send us an email. And as always, thank you for your patience and support. Member access denied To access the tools and applications previously available through the Member Access Portal (MAP), you'll be asked to sign in again if it has been four hours since you last signed in. If after signing in a second time, you still receive an "Access Denied" error...
»
Have an idea for a convention breakout session?
- Are you interested in leading a breakout session during the 2014 Rotary International Convention in Sydney? Proposals are being accepted through 21 October. Whether you want to share your project success story, discuss strategies for strengthening membership, or hold a roundtable on fundraising ideas, we invite you to submit your great idea  about the sessions. The proposal form is available only in English. To submit a proposal for a session in another language, contact us at learn@rotary.org. Find out more about next year's convention at www.RIconvention.org.
»
September classes on my rotary
- Webinars Lifecycle of a Service Project (Part 1): Overview and Introduction Plan a successful, sustainable service project with the resources and information you'll gain from our new five-part series. The first session will help you understand the lifecycle of a service project, from planning and locating resources to promoting the project and evaluating its impact. Plus we'll share real-life examples of Rotary service projects and the lessons learned from them. How you can help eradicate polio Discover how you can help make history! Get an update on the status of our eradication efforts and...
»
Engineering sustainable water solutions in latin america
- Perched in the rugged mountains of central Ecuador, the village of Tingo Pucará seems an unlikely place for artistic inspiration to strike. But Tony Riggio never leaves his camera behind—and his photos of Tingo Pucará illustrate what can happen when Rotary members and young people team up on a water project. Riggio has been leading youth expeditions to Central and South America since 2001, when his daughter participated in a program of Builders Beyond Borders (B3), a nonprofit based in Connecticut, USA. Construction projects have included hurricane shelters in the Dominican Republic, bridges...
»
Rotary approves $500,000 emergency grant for somalia
- Rotary has approved a $500,000 Rapid Response grant to the World Health Organization (WHO) to address a recent polio outbreak in Somalia. The outbreak occurred in the Banadir region of Somalia, where a large number of children had not been vaccinated against polio due to inaccessibility.  As of 14 August, 110 cases of wild poliovirus have been reported in the Horn of Africa—100 cases in Somalia and 10 in Kenya. This is the first outbreak in Somalia since 2007 and in Kenya since 2011. The Rotary grant will cover operational costs, including human resources, training, and transportation of...
»
What's new about the rotary website? everything!
- Welcome to your new Rotary website. We've heard from many corners that Rotary needs a faster, improved website that makes it easy to find what you're looking for and helps you get your Rotary business done.  We listened – and we hope you're as excited as we are about its clean, modern look and state-of-the-art features. The site reflects valuable input from Rotary members like you–plus some new ideas we've developed to help you get more out of the site. The result is a website that's organized around what you need to connect with leaders, exchange ideas, and take action in your community and...
»
Witnesses to history
- The first Rotary club in Ukraine was chartered in 1992, mere months after the formal dissolution of the Soviet Union. Twenty years later, young people have embraced Rotary through 24 Rotaract clubs across the country. While many of them focus on the challenges facing Ukraine today, members of the Rotaract Club of Kyiv Multinational – one of four in the capital city – take time to honor their elders. For nearly three years, they've been visiting a nursing home in Peremoha, about 40 miles from Kyiv. The village's elderly residents have lived through a tumultuous century: the brutal German...
»
Why rotary?
- You'll find Rotary clubs in small towns and big cities across the globe. It's where like-minded professionals and community leaders come together to exchange ideas, take action, and make new friends. See why Rotary is their choice–and why you should make it yours–for creating positive change at home and around the world.