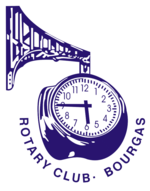 Ротари Клуб Бургас, Дистрикт 2482 България
Ротари Клуб Бургас е един от трите най-стари клуба на РОТАРИ в България.
Ротари Клуб Бургас е създаден през 1937-ма година.
През 1941 година прекратява дейността си.Ротари клуб Бургас е възстановен през 1991 година.
Ротари Интернешънъл – най-старата организация с идеална цел има представителства в почти всички страни в света. Членовете на РОТАРИ се подбират сред лидерите в бизнеса и професиите. Ротарианците доброволно отдават време и умения в службана обшеството. Мотото на Ротари Service Above Self (За безкористна служба) въплъщава хуманния дух на неговите членове. Дружбата между ротарианците и значимите обществени и международни проекти са характерни за Ротари в целия свят.
Елект президент и борд 2011-2012
Елект президент на РК Бургас - Илко Бонев (президент 2012-2013).
Борд 2011-2012: Секретар Мария Хаджипетрова, Вицепрезидент Иван Данев, Церемониалмайстор Веселин Пренеров, Ковчежник Любомир Георгиев.
Президент (избран преди 1 година) ще е Герхард Бенциен.
Пастпрезидент (настоящият президент) Стефко Русев.
Новини от Rotary International
»
Beware of new email scam claiming to be from foundation chair klinginsmith
- A new email purporting to be from Rotary Foundation Trustee Chair Ray Klinginsmith is targeting Rotary members. The email falsely claims that members can become End Polio Now ambassadors if they email club information to a Gmail address within 48 hours. The fraudulent email has the subject line "BECOME AN END POLIO AMBASSADOR" and is sent from a fake email address. This is a scam. Rotary staff is working to resolve the issue. Avoid being the victim of scams by deleting any email that appears suspicious.
»
Find resources for planning your centennial celebration
- We're kicking off The Rotary Foundation's centennial celebration at the Korea convention, 28 May-1 June. But you can get started now planning your club's centennial activities with the resources available in our promotion kit: Ideas and activities for clubs Doing Good in the World promotional flier Doing Good in the World bookmark Sample press release Centennial letterhead Centennial PowerPoint template Centennial postcard History of The Rotary Foundation PowerPoint Find more ideas in "Rotary's Foundation Is Turning 100," in the January issue of Rotary Leader Watch and download A Century of...
»
Rotary's 2016 international assembly coverage and resources
- Rotary's annual training meeting gives incoming district governors from around the world the chance to share ideas for strengthening clubs and improving communities. Learn more about the new presidential theme, Rotary Serving Humanity, and find photos, videos, and speeches from the event. Download resources to use with your club and district. News coverage Germ reveals 'Rotary Serving Humanity' as 2016-17 presidential theme Rotary Voices Read reactions from the assembly Photos 2016 Rotary International Assembly photo gallery Videos 2016-17 presidential theme announcement Find more videos...
»
2016 rotary international assembly photo gallery
-
»
Michele berg named deputy general secretary
- Michele Berg has been selected to help lead Rotary's operations as deputy general secretary. In this role, she will work alongside General Secretary John Hewko to ensure effective internal operating policies and implement strategies and programs.  In her previous role as Rotary's chief programs and member services officer, Berg led a team of more than 150 staff members who support membership development, learning and development, and programs. She has worked for Rotary since 2001.  "Michele is an outstanding leader who has been instrumental in ensuring that we provide high-quality services to...
»
Rotary condemns deadly attack on polio security personnel in pakistan
- Rotary members and our partners in the fight to eradicate polio offer our heartfelt condolences and express a deep sadness in the wake of a horrific bomb attack in Quetta, Pakistan, that took the lives of at least 15 security personnel on 13 January. This tragic attack outside a polio immunization center is a stark reminder of the dangers faced by Rotary, our partners in the Global Polio Eradication Initiative, and the brave women and men on the front lines of our effort to protect all children from the paralyzing effects of polio. While the bombing will be investigated, one thing is clear:...
»
New online process makes it easy to follow up on prospective members
- Tracking your membership leads is easier than ever. District leaders and club officers can now review inquiries from prospective, referred, and relocating or returning members -- all in one place. Sign in to My Rotary and visit the Club and District Administration pages to discover how easy it is to manage your online membership leads and review reports. You'll also find guides to help walk you through the new process. To refer a member or begin the process of changing clubs, visit the Member Center. If you're not a Rotary member but are interested in joining us, you can learn more about club...
»
New rotary flag and banner materials available in brand center
- Give your Rotary flag or banner a new and professional look with our updated materials, available in the Brand Center. With eight options of colors and backgrounds to choose from, you can find the design that will best strengthen your club or district brand. The Brand Center also offers everything you need to create communications with the Rotary look and tone. You can download Rotary's logo -- or create your own club or district logo. And you'll find editable templates for brochures, newsletters, PowerPoint presentations, fliers, and more. (Sign-in required.)
»
Rotary honors six women for leadership and humanitarian service
- Rotary President K.R. Ravindran has named six Rotary Global Women of Action for 2015. The honorees were chosen for their dedication and service, which has improved the lives of thousands around the world. "Every day at Rotary I see firsthand how our members work to change lives and make a significant impact," said Ravindran. "Rotary's Global Women of Action embody Rotary's motto, Service Above Self." The women will be honored at Rotary Day at the United Nations in New York City on 7 November. They will address attendees and lead discussions on various topics related to their work. The six...
»
Bringing education to rural mexican area, one school at a time
- When Mariana Day moved in 1989 to the small beach town of Chacala, in Nayarit, Mexico, she noticed that the surrounding rural areas struggled to maintain schools. And most children weren't able to go beyond an eighth-grade education. Day, who is a member of the Rotary Club of Bahía de Jaltemba-La Peñita, in Nayarit, had started a local scholarship program before she joined Rotary. Called Changing Lives, the program provided students with high school tuition, uniforms, school supplies, and transportation. In addition, Rotary clubs from the United States and Mexico have been investing in the...