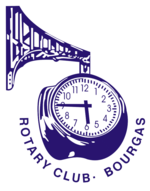 Ротари Клуб Бургас, Дистрикт 2482 България
Ротари Клуб Бургас е един от трите най-стари клуба на РОТАРИ в България.
Ротари Клуб Бургас е създаден през 1937-ма година.
През 1941 година прекратява дейността си.Ротари клуб Бургас е възстановен през 1991 година.
Ротари Интернешънъл – най-старата организация с идеална цел има представителства в почти всички страни в света. Членовете на РОТАРИ се подбират сред лидерите в бизнеса и професиите. Ротарианците доброволно отдават време и умения в службана обшеството. Мотото на Ротари Service Above Self (За безкористна служба) въплъщава хуманния дух на неговите членове. Дружбата между ротарианците и значимите обществени и международни проекти са характерни за Ротари в целия свят.
Елект президент и борд 2011-2012
Елект президент на РК Бургас - Илко Бонев (президент 2012-2013).
Борд 2011-2012: Секретар Мария Хаджипетрова, Вицепрезидент Иван Данев, Церемониалмайстор Веселин Пренеров, Ковчежник Любомир Георгиев.
Президент (избран преди 1 година) ще е Герхард Бенциен.
Пастпрезидент (настоящият президент) Стефко Русев.
Новини от Rotary International
»
Watch this year's most popular rotary membership videos
- Your votes are in. With 585 votes, the video from the Rotary Club of Atlanta, Georgia, USA, is this year's most popular Share Your Story membership video. The three-minute clip shows how club members from Atlanta worked with clubs in Honduras to improve the lives of children in a small Honduran village. These clubs made the top four Rotary Choice videos: Rotary Club of Petion-Ville, Haiti Rotary Club of Panaji Mid-Town, Goa, India Rotary Club of Anchorage, Alaska, USA Rotary Club of Alpharetta, Georgia, USA Thanks to all who participated and voted. Rotary News
»
Nigerian donor promotes rotary's role as a player for peace
- For Nigerian philanthropist Michael Olawale-Cole, understanding Rotary's positive influence in the world requires imagining the world without Rotary. "How many millions of people's lives would not have been affected by Rotary's good work?" says Olawale-Cole, who joined Rotary as a member of the Rotary Club of Isolo, Lagos State, in 1980. "If Rotary did not take on the challenge of eradicating polio, how many more millions of children around the world would have died or been crippled by this disease? Who could have done that if not Rotary?" Imagining what the world would be like without Rotary...
»
Rotary, usaid collaboration improves sanitation facilities in ghana
- According to a 2012 report by UNICEF and the World Health Organization, Ghana has made great strides in providing its people with clean drinking water. But access to better sanitation has lagged. Only about 14 percent of Ghanaians have access to improved facilities, compared with the 54 percent target set for 2015 by the United Nations Millennium Development Goals. Addressing the issue isn't simple, as pit latrines need emptying, toilets need maintenance, and promoting hygiene requires education. The H2O Collaboration, a partnership between Rotary and the U.S. Agency for International...
»
Sydney convention wins major marketing awards
- Headed to the Rotary Convention in SГЈo Paulo this June? Get excited. Your upcoming experience is being organized by an award-winning meetings and events team from Rotary International. Last year's convention in Sydney was recognized recently with several industry awards at the Meeting and Events Australia's prestigious annual NSW Awards Night. Rotary and Business Events Sydney won the headlining award -- Association or Government Meeting of the Year -- as well as two Specialist Awards for Best Corporate Social Responsibility and Best Educational Component. As winner of the major NSW award,...
»
Global grant partnership turns good idea into bigger, sustainable project
- In the Esmeraldas Province of Ecuador, Rotary members have teamed up with a microfinance organization to provide small loans to poor women, teaching them to sew and bake so they can start or expand businesses. The Rotary Club of Marin Evening, in California, USA, reached out to 64 Rotary clubs in seven districts including Ecuador's, to raise money, find support from partners, and mobilize local community members for a global grant project. Keith Axtell, a member of the Marin Evening club, says the effort began in 2005-06, when his wife, Holly, was district governor and was looking for an...
»
Council on legislation dues increase begins in july
- An increase to the Council on Legislation dues goes into effect in July, and it will be reflected on the July club invoice. The Rotary International Board of Directors approved the increase from $1 to $1.50 in October 2014. The Council, which meets every three years, will meet 10-15 April in Chicago. The Council considers proposals to change RI's constitutional documents and resolutions that express an opinion or make a recommendation to the Board. RI's Bylaws, which govern the relationship between Rotary International and Rotary clubs, can be changed only by legislation by the Council. The...
»
The talent around the table: mitty chang
- When it comes to Rotary, Mitty Chang is practically a lifer – and he's only 26. Chang joined Interact 10 years ago in Fremont, Calif., where almost a quarter of the 2,000 students at his high school were Interactors. He went on to organize two Rotaract clubs. Now an entrepreneur who works with small businesses and nonprofits to build their online identity and brand, he plans to become a Rotarian within the next few years. "I expect to have a long life in Rotary," he says. We caught up with Chang at the 2014 Rotary convention in Sydney, Australia, to find out what being a member of the Rotary...
»
Rotary, shelterbox organizing aid for quake victims in nepal
- Rescue missions and emergency aid continue to arrive in Nepal after a massive earthquake hit the country on 25 April, killing at least 7,500 people and injuring thousands more. The 7.8-magnitude quake, the worst to hit Nepal in more than 80 years, has affected 8 million people in the country's 39 districts, including 1.4 million needing food assistance, according to government officials. "Rotarians worldwide stand together in expressing a profound sadness at the devastation resulting from this weekend's deadly earthquake in Nepal," says RI President Gary C.K. Huang. "As we mourn the thousands...
»
Simplified billing process gets positive reviews from club leaders
- The single-page invoice that Rotary clubs received in January, which replaces a complex document they'd previously had to complete, is being cheered by many club officers. In the past, club secretaries had to fill out an eight-part semiannual report to calculate the amount their club owed Rotary International for membership dues, subscriptions, and outstanding balances. New members were written in, old members were crossed out, and many calculations were required before the club treasurer could pay the invoice. "Nobody wanted to do the semiannual report; it was confusing," says Gail...
»
How a simple school project in india became a global grant
- Two years ago, U.S. Rotary members in Maine set out to improve the education system in Bikaner, Rajasthan, an Indian city near the border of Pakistan. The Rotary Club of Kennebunk Portside chose Bikaner because club member Rohit Mehta was originally from the area and had connections there. Mehta put the club in contact with Rotarians in India to provide desks for four government-run schools. But when community leaders returned with a request for more desks, the Maine Rotarians decided they had to think bigger. The Rotary Foundation had rolled out its new grant model, which required that the...