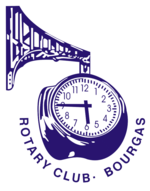 Ротари Клуб Бургас, Дистрикт 2482 България
Ротари Клуб Бургас е един от трите най-стари клуба на РОТАРИ в България.
Ротари Клуб Бургас е създаден през 1937-ма година.
През 1941 година прекратява дейността си.Ротари клуб Бургас е възстановен през 1991 година.
Ротари Интернешънъл – най-старата организация с идеална цел има представителства в почти всички страни в света. Членовете на РОТАРИ се подбират сред лидерите в бизнеса и професиите. Ротарианците доброволно отдават време и умения в службана обшеството. Мотото на Ротари Service Above Self (За безкористна служба) въплъщава хуманния дух на неговите членове. Дружбата между ротарианците и значимите обществени и международни проекти са характерни за Ротари в целия свят.
Елект президент и борд 2011-2012
Елект президент на РК Бургас - Илко Бонев (президент 2012-2013).
Борд 2011-2012: Секретар Мария Хаджипетрова, Вицепрезидент Иван Данев, Церемониалмайстор Веселин Пренеров, Ковчежник Любомир Георгиев.
Президент (избран преди 1 година) ще е Герхард Бенциен.
Пастпрезидент (настоящият президент) Стефко Русев.
Новини от Rotary International
»
Rotary's world polio day event looks ahead to ending the disease for good
- While the fight to eradicate polio suffered a blow this year when the virus re-emerged in Nigeria, Rotary leaders and top health experts focused Monday on the big picture: the global presence  of the paralyzing disease has never been smaller. The headquarters of the U.S. Centers for Disease Control and Prevention (CDC) in Atlanta, Georgia, USA, served as the site of Rotary's fourth annual World Polio Day event. Some of the biggest names in the polio eradication campaign were there to reflect on the year's progress and discuss what's needed to end the disease for good. More than 200 people...
»
Virtual reality films bring new dimension to polio fight
- At this year's World Polio Day celebration in Atlanta, Rotary is harnessing the power of virtual reality technology to build empathy and inspire action in our fight to eradicate polio. Rotary, with support from the U.S. Fund for UNICEF, produced a virtual reality film that tells the story of Alokita, a young adult who suffered paralysis from polio as a child growing up in India, which has been polio-free since 2011. "When you open your eyes and see a different environment around you, you relate to the subject on a visceral, personal level," says Vincent Vernet, direct of digital and...
»
Rotary day at un highlights role of business in building a better world
- From the United Nations' earliest days in the aftermath of World War II, the organization's humanitarian mission has always dovetailed with Rotary's efforts to administer aid and build peace. This year's Rotary Day at the United Nations, 12 November, will highlight the role businesses can play in that collaboration as we work toward a more just and equitable world. The theme of this year's gathering at UN headquarters in New York City, "Responsible Business, Resilient Societies," recognizes Rotary's role at the intersection of commerce and cause. As leaders in their professions and...
»
Shelterbox prepares for mosul refugees
- Today marked the start of the battle to take control of Mosul back from the Islamic State group, also known as ISIS. The city is the group's last major stronghold in Iraq. But humanitarian aid agencies have known about the military offensive, giving them an unusual opportunity to prepare for the crisis. "It is rare for the world to get early warning of a vast human catastrophe," says Chris Warham, chief executive of ShelterBox. "The United Nations High Commissioner for Refugees issued a paper in July saying this would likely be the biggest humanitarian crisis of the year — and we better get...
»
Skydivers raise thousands for polio eradication
- The first time Noel Jackson jumped out of a plane at 14,000 feet, it had nothing to do with raising money for polio eradication. The Michigan dentist had received a gift certificate to go skydiving from his staff because they knew he was into adventure. "It is definitely a defining moment," says Jackson, a member of the Rotary Club of Trenton, Michigan, USA, of that first jump, done in tandem strapped to a professional skydiver. "The rush of the free fall is beyond anything I have ever experienced before. Just the speed and acceleration is unbelievable. You don't even have time to figure out...
»
Rotary and shelterbox on the ground in haiti
- Even as parts of Haiti were still recovering from a catastrophic 2010 earthquake, Hurricane Matthew tore through the impoverished island country 4 October, leaving hundreds dead and many more homeless. The Category 4 storm affected an estimated 330,000 people in Haiti, including 6,400 who were moved to temporary shelters. Extensive damage to main bridges and other transportation networks have left some areas cut off and vulnerable. Torrential rains have resulted in flooding and landslides. And contaminated water supplies threaten to lead to a surge in cholera cases and other waterborne...
»
Watch our polio partnership come alive at world polio day
- On 24 October, World Polio Day, Rotary will bring together partners from the Global Polio Eradication Initiative for an update on our fight to end polio. As host and moderator of the event, our organization plays a key role in amplifying one of the most important public health concerns in modern history. When we first took it up as an organizational cause over three decades ago, polio affected 350,000 children every year, mostly in lower-income countries where poor sanitation and limited access to clean water facilitate the spread of the virus. Our collaboration with the World Health...
»
Ebay live auctions that benefit rotary
- Each month, eBay, the world's largest auction website, selects a set of upcoming Live Auction events and donates a portion of all sales proceeds to Rotary. Only U.S. auction sales are eligible. See the schedule of October auctions.
»
Nigeria's top health official visits rotary to discuss country's response to polio outbreak
- Nigeria's health minister, Isaac Adewole, said on Friday that his government is determined to rid the country of polio again. New cases recently landed Nigeria back on the list of countries where the disease is endemic. Adewole met with Rotary leaders at Rotary International World Headquarters in Evanston, Illinois, USA, to discuss Nigeria's recent efforts to stem the outbreak. All three of the country's cases were detected in the northern state of Borno, which was under the control of Boko Haram militants until recently. The World Health Organization (WHO) estimates that the virus has been...
»
Germ declares owori president-nominee
- On 1 October, RI President John F. Germ declared Samuel F. Owori Rotary International's president-nominee. The Nominating Committee for President selected Owori, a member of the Rotary Club of Kampala, Uganda, in August. He will be elected at the 2017 RI Convention in Atlanta, Georgia, USA, and will become president on 1 July 2018. Read more about Owori