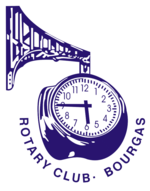 Ротари Клуб Бургас, Дистрикт 2482 България
Ротари Клуб Бургас е един от трите най-стари клуба на РОТАРИ в България.
Ротари Клуб Бургас е създаден през 1937-ма година.
През 1941 година прекратява дейността си.Ротари клуб Бургас е възстановен през 1991 година.
Ротари Интернешънъл – най-старата организация с идеална цел има представителства в почти всички страни в света. Членовете на РОТАРИ се подбират сред лидерите в бизнеса и професиите. Ротарианците доброволно отдават време и умения в службана обшеството. Мотото на Ротари Service Above Self (За безкористна служба) въплъщава хуманния дух на неговите членове. Дружбата между ротарианците и значимите обществени и международни проекти са характерни за Ротари в целия свят.
Елект президент и борд 2011-2012
Елект президент на РК Бургас - Илко Бонев (президент 2012-2013).
Борд 2011-2012: Секретар Мария Хаджипетрова, Вицепрезидент Иван Данев, Церемониалмайстор Веселин Пренеров, Ковчежник Любомир Георгиев.
Президент (избран преди 1 година) ще е Герхард Бенциен.
Пастпрезидент (настоящият президент) Стефко Русев.
Новини от Rotary International
»
Bringing education to rural mexican area, one school at a time
- When Mariana Day moved in 1989 to the small beach town of Chacala, in Nayarit, Mexico, she noticed that the surrounding rural areas struggled to maintain schools. And most children weren't able to go beyond an eighth-grade education. Day, who is a member of the Rotary Club of Bahía de Jaltemba-La Peñita, in Nayarit, had started a local scholarship program before she joined Rotary. Called Changing Lives, the program provided students with high school tuition, uniforms, school supplies, and transportation. In addition, Rotary clubs from the United States and Mexico have been investing in the...
»
Meet our polio partners
- From the September 2015 issue of The Rotarian Eradicating polio is a complex job. Since 1988, we've collaborated with the World Health Organization, the U.S. Centers for Disease Control and Prevention, and UNICEF to tackle the disease through our Global Polio Eradication Initiative. Here's how our roles break down. The Strategist: WHO The World Health Organization (WHO) coordinates the management and administration of the Global Polio Eradication Initiative and provides technical and operational support to ministries of health in countries around the world. WHO is responsible for monitoring...
»
Nigeria sees no wild polio cases for one year
- Today marks one year since Nigeria last reported a polio case caused by wild poliovirus, putting the country on the brink of eradicating the paralyzing disease. The last case was reported on 24 July 2014 in the northern state of Kano. If no cases are reported in the coming weeks, the World Health Organization is expected to remove Nigeria from the list of countries where polio is endemic, leaving just two: Afghanistan and Pakistan. Nigeria is the last polio-endemic country in Africa. The continent is poised to reach its own first full year without any illness from the virus on 11 August. "...
»
Australian students take opportunity by the horns
- The rules of the Shaftesbury Rodeo Academy are simple: no school, no rodeo. It's a message that teenagers who attend school at Bisley Farm, most of whom have never attended any school regularly, take seriously. Because come Friday night, these aspiring rodeo heroes want to join their friends to ride bulls for a heart-stopping eight seconds, if they last that long. The school in rural Queensland, Australia, also teaches the boys, who are of the Wakka Wakka Aboriginal people, basic academics and farming skills, including how to care for crops and livestock. It's a fairly common form of...
»
Illiteracy traps adults, and their families, in poverty
- Around the world, millions of adults are unable to read or write, and therefore struggle to earn a living for themselves and their families. Even in the United States, with its considerable resources, there are 36 million adults who can't read better than the average third-grader, according to the international nonprofit ProLiteracy. In Detroit, Michigan, a widely cited 2003 survey conducted by the National Institute for Literacy found that almost half of residents over age 16 were functionally illiterate -- unable to use reading, speaking, writing, and computer skills in everyday life....
»
Meet rotary's new president
- This excerpt from the July issue of The Rotarian magazine profiles the 2015-16 RI president. Before he gives a speech, K.R. Ravindran doesn't like flowery, adulatory introductions. They make him uncomfortable. The 2015-16 Rotary president would rather keep a low profile and share the credit. If it were up to him, you probably wouldn't even be reading this article. Negotiating Days of Tranquility during the Sri Lankan civil war so that health workers could administer drops of polio vaccine? Although it was on his desk that the agreement landed, he says, a lot of people worked to make that...
»
Apply to serve on an ri committee
- If you would you like to contribute to Rotary by serving on a committee, this is your opportunity. The nine committees listed below are searching for qualified candidates for openings in 2016-17. Each of these committee works with Rotary leaders to increase efficiency and promote the goals and priorities of our strategic plan. To be considered for a committee appointment, go to www.tinyurl.com/ri-committee-application for an application form. The application deadline is 20 August. Learn more about the committees and the application process. Get answers to frequently asked questions....
»
Early cancer detection is saving lives in sri lanka
- More than 20,000 new cases of cancer are diagnosed every year in Sri Lanka, and many of them prove fatal. The Rotary Club of Colombo, Sri Lanka, set out 10 years ago to save some of those lives by establishing the Cancer Prevention and Early Detection Centre.В  In partnership with the National Cancer Control Programme and the Ministry of Health, the center in Colombo has screened more than 35,000 patients, mostly low-income, and detected more than 7,500 cases of abnormalities that required further investigation. The Rotary Club of Birmingham, Alabama, USA, donated a mammography and ultrasound...
»
Visit our new member center
- As a member of Rotary, you're part of a global network of community volunteers who are making a positive difference. Visit the new Member Center to access the many benefits and resources available to you, including: Rotary Global Rewards, our brand-new member benefits program featuring discounts on travel, hotels, dining, and entertainment Rotary publications and products, licensed vendors, mobile apps, and online tools Awards and donor recognition opportunities Rotary International Convention, our biggest event of the year The Rotarian, the official magazine of Rotary Share the benefits of...
»
Rotary releases $40.3 million for polio immunization activities
- Rotary is releasing $40.3 million in grants to support polio immunization activities in 10 countries, including Afghanistan, Nigeria, and Pakistan, three countries where the disease has never been stopped. The funds will help build on gains Rotary and its partners have been making in the fight to eradicate polio. Nigeria hasn't seen a polio case since 24 July 2014 and the World Health Organization could remove it from the list of polio-endemic countries as soon as September if no cases are reported. Nigeria would have to go another two years without a case to be certified polio-free. But the...