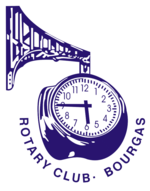 Ротари Клуб Бургас, Дистрикт 2482 България
Ротари Клуб Бургас е един от трите най-стари клуба на РОТАРИ в България.
Ротари Клуб Бургас е създаден през 1937-ма година.
През 1941 година прекратява дейността си.Ротари клуб Бургас е възстановен през 1991 година.
Ротари Интернешънъл – най-старата организация с идеална цел има представителства в почти всички страни в света. Членовете на РОТАРИ се подбират сред лидерите в бизнеса и професиите. Ротарианците доброволно отдават време и умения в службана обшеството. Мотото на Ротари Service Above Self (За безкористна служба) въплъщава хуманния дух на неговите членове. Дружбата между ротарианците и значимите обществени и международни проекти са характерни за Ротари в целия свят.
Елект президент и борд 2011-2012
Елект президент на РК Бургас - Илко Бонев (президент 2012-2013).
Борд 2011-2012: Секретар Мария Хаджипетрова, Вицепрезидент Иван Данев, Церемониалмайстор Веселин Пренеров, Ковчежник Любомир Георгиев.
Президент (избран преди 1 година) ще е Герхард Бенциен.
Пастпрезидент (настоящият президент) Стефко Русев.
Новини от Rotary International
»
The rotary foundation of the united kingdom receives gift of ВЈ1.25 million from accomplished pianist and teacher
- Helen Ruddock of Suffolk, England, promoted the goals and values of Rotary through her leadership, service, and integrity. Helen Ruddock of Suffolk, England bequeathed a generous donation of ВЈ1.25 million to The Rotary Foundation. Having passed away in 2015 at the age of 96, and although not a Rotarian herself, Mrs Ruddock had a passion for improving the lives of others. Her introduction to Rotary and The Rotary Foundation was made by a close friend, who was a member of the Rotary Club of Halstead for a number of years. Complying with Mrs Ruddock's wishes, the spendable earnings from...
»
Rotary to premiere latest virtual reality film
- Following the success of its first virtual reality film, released in October, Rotary is working with Google's virtual reality team to offer an experience that showcases the impact of compassion to a global audience. We're producing a three-minute virtual reality film that emphasizes the two themes of polio and peace, and how Rotary's work to eradicate the disease is increasing stability across the world. We'll premiere the film on 13 June during the Rotary International Convention in Atlanta, Georgia, USA. It will be widely released in time for World Polio Day on 24 October. We invite...
»
Rotary support center certified as center of excellence
- The Rotary Support Center has earned BenchmarkPortal's certification as a Center of Excellence, a noted designation in the customer service and support industry. The certification puts Rotary's Support Center in the top 10 percent of industry peers that requested evaluation by BenchmarkPortal. The Rotary Support Center received nearly 50,000 phone calls and 84,000 email requests for help last year. "I am so proud and happy to have such a great team who continue to reach higher levels of performance and break new records and exceed the goals," says Howard Henry, Support Center manager. "This...
»
Five years since its debut, rotary club central is getting a big upgrade
- When we introduced Rotary Club Central in 2012, it revolutionized goal tracking and planning for clubs and districts — no more filling out paper club-planning forms or passing along boxes of historical club information every time a new leader took office. Rotary Club Central offered clubs and districts a quantifiable way to begin measuring local and global impact, specifically membership initiatives, service activities, and Rotary Foundation giving. But as with any technological advancement, in a few short years, Rotary Club Central began to show its age, and Rotarians took notice. They...
»
Rotary international board adopts new zone structure
- At its January 2017 meeting, the Rotary International Board of Directors adopted a new zone structure for Rotary clubs. Rotary bylaws require the Board to complete a comprehensive review of the 34 Rotary zones no less often than every eight years to ensure that each zone has an approximately equal number of Rotarians. The Board's previous review of the zones occurred in 2008. The Board earlier approved the creation of three regional workgroups to develop rezoning proposals for Asia, Europe/Africa, and the Americas. These workgroups comprised one representative (either a current director,...
»
Centennial celebration honors 20 noteworthy global grant projects
- Through The Rotary Foundation, Rotary members have supported thousands of projects that promote peace, fight disease, provide clean water, save mothers and children, support education, and grow local economies. We've also led the fight to eradicate polio worldwide. As part of our celebration of the Foundation's centennial, we're honoring 20 global grant projects with special recognition. Learn more about the projects using our interactive map.
»
Convention: southern hospitality
- The Atlanta Host Organization Committee is offering some good old-fashioned Southern hospitality at the Rotary International Convention from 10 to 14 June. It has planned a wide range of activities featuring everything from good food and music to inspiring tours of local landmarks. If it's your first convention, these events are chances to meet fellow Rotarians from around the world, and if you're an experienced convention goer, you can catch up with old friends. Hall of Fame baseball player Hank Aaron will host Rotarians for a "Strike Out Polio" night at the new SunTrust Park, where you'll...
»
Member spotlight: the power of the press
- When Teguest Yilma helped found the Rotary Club of Addis Ababa Entoto in 2002, she thought polio had already been eradicated from most of the world. But while Ethiopia had been free of the disease, Yilma was shocked to learn that new cases had started cropping up in surrounding countries such as Somalia. "I was thinking, it's not possible, we can't be free if the countries around us are not free," she says. Yilma, the managing editor of Capital, Ethiopia's largest English weekly newspaper, has brought a journalist's skills to the fight against polio. She became vice chair of the Ethiopia...
»
Member interview: writer sheds light on fdr's right-hand woman
- Battling breast cancer in 2000, Kathryn Smith found comfort pursuing her lifelong interest in Franklin D. Roosevelt. The more she read, the more intrigued she became with the 32nd U.S. president's private secretary, Marguerite Alice "Missy" LeHand. "I thought, what a fascinating life she had because she was by his side through the polio crisis, establishing the polio rehabilitation center in Warm Springs and then after his return to politics," she says. Smith, a past president of the Rotary Club of Greater Anderson, S.C., and a longtime newspaper journalist, turned that curiosity into a book...
»
The rotarian conversation with ban ki-moon
- One of United Nations Secretary-General Ban Ki-moon's earliest memories is of fleeing with his family into the mountains during the Korean War, his village burning behind him. His father and grandfather had to forage for food in the woods; his mother gave birth to his siblings away from anything remotely resembling a health facility. "I have known hunger," he says. "I have known war, and I have known what it means to be forced to flee conflict." The soldiers who came to their rescue were flying the blue flag of the United Nations. The UN provided them with food and their schools with books....