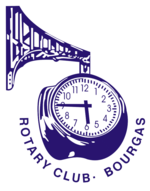 Ротари Клуб Бургас, Дистрикт 2482 България
Ротари Клуб Бургас е един от трите най-стари клуба на РОТАРИ в България.
Ротари Клуб Бургас е създаден през 1937-ма година.
През 1941 година прекратява дейността си.Ротари клуб Бургас е възстановен през 1991 година.
Ротари Интернешънъл – най-старата организация с идеална цел има представителства в почти всички страни в света. Членовете на РОТАРИ се подбират сред лидерите в бизнеса и професиите. Ротарианците доброволно отдават време и умения в службана обшеството. Мотото на Ротари Service Above Self (За безкористна служба) въплъщава хуманния дух на неговите членове. Дружбата между ротарианците и значимите обществени и международни проекти са характерни за Ротари в целия свят.
Елект президент и борд 2011-2012
Елект президент на РК Бургас - Илко Бонев (президент 2012-2013).
Борд 2011-2012: Секретар Мария Хаджипетрова, Вицепрезидент Иван Данев, Церемониалмайстор Веселин Пренеров, Ковчежник Любомир Георгиев.
Президент (избран преди 1 година) ще е Герхард Бенциен.
Пастпрезидент (настоящият президент) Стефко Русев.
Новини от Rotary International
»
Rotary day at the united nations highlights the strength of partnerships
- To strengthen their 69-year-old partnership, leaders from Rotary and the United Nations met this month in New York City for Rotary Day at the United Nations. The two organizations began working together with the aim of maintaining peace after World War II. Today, the relationship has evolved to include humanitarian work in areas like gender equality, child and maternal health, and disease treatment and prevention. While the UN's Millennium Development Goals are set to expire in 2015, its leaders are preparing for an even more ambitious humanitarian agenda of eradicating extreme poverty by...
»
A major breakthrough against polio
- Rotary and its partners in the Global Polio Eradication Initiative (GPEI) are approaching a significant milestone: the eradication of type 3 wild poliovirus. The last case of polio caused by the type 3 virus was reported in Yobe, Nigeria, on 10 November 2012. "We may have eradicated a second of three; that's a major milestone," said Dr. Stephen Cochi, a senior adviser at the Center for Global Health at the U.S. Centers for Disease Control and Prevention, speaking to the BBC. Rotary has played an important role in bringing type 3 polio close to extinction. PolioPlus grants have provided key...
»
Participate in #givingtuesday on 2 december
- This year, Rotary is participating in #GivingTuesday on 2 December, a global day of giving supported by 10,000 organizations worldwide. Invite your club to get involved by giving online. Online giving is the easiest and most efficient way to give to the Foundation and the causes you care about most. As an added incentive, President Gary C.K. Huang will send special video messages to the club and district that make the most individual online gifts to The Rotary Foundation on #GivingTuesday. Share why you support the Foundation on Twitter and Facebook by using the tags #GiveTheGift and #...
»
Tam, a oneworld alliance partner, selected as official airline of the sГЈo paulo convention
- Fly TAM Airlines nonstop to SГЈo Paulo for the Rotary International Convention to enjoy special discounts, effective for travel from 1-17 June 2015. Find discounts and promotional codes for your area. Convention attendees can also find discounted flights to SГЈo Paulo using oneworld's convenient online booking tool, customized with Rotary convention information. oneworldВ®, the premier global airline alliance, brings together 15 leading airlines from around the world. (You can also visit www.oneworld.com/events and enter event code OW56B14 to log in as an attendee.) Register for the convention...
»
How rotary can keep and recruit members
- For more than a decade, Rotary's membership has lingered around 1.2 million. That means that for every person who joined during that period, another person left. Last year, membership hit a 10-year low, at 1,185,000, though we've since rebounded, raising the figure this year to 1,207,102. For RI President Gary C.K. Huang, that's not good enough. He hopes to increase membership to 1.3 million by the end of his term. "It's simple: The more members we have, the more people we can help," Huang says. "A stronger membership base will result in strong communities." How can we reach his goal? And how...
»
Rotary's world polio day live-streamed event is a huge success
- More than 23,000 viewers in 24 countries tuned in to Rotary's World Polio Day event, streamed live on 24 October. Health officials including James Alexander, senior medical epidemiologist for the U.S. Centers for Disease Control and Prevention, gave an update on the polio eradication campaign and praised Rotary's achievements to date. Rotary has contributed more than $1.2 billion to polio eradication since 1979. For World Polio Day, Rotary released $44.7 million in grants to fight the disease in Africa, Asia, and the Middle East. In addition to the update, the event included entertainment by...
»
Indian district sets up fund for cyclone victims
- Rotary District 3020 (Andhra Pradesh, India) has created a disaster relief fund to help victims along the east coast of India after Cyclone Hudhud hammered the region on 13 October. The storm, packing wind speeds of 120 miles per hour, killed more than 40 people, displaced tens of thousands, and caused billions of dollars in damage. "Almost all Rotarians, numbering around 2,000, of the 30 clubs in the most affected area experienced great hardship and property loss," says District Governor Gude Venkat Mohan Prasad. "Clubs around the country have started making inquiries on ways they can help...
»
Malala yousafzai wins the 2014 nobel peace prize
- Malala Yousafzai, the Pakistani teenager shot in the head for speaking out against the Taliban in support of girls' education, has been awarded the Nobel Peace Prize for 2014. Yousafzai, whose father is a Rotarian, shares the prize with Kailash Satyarthi, a native of India who has worked to combat the exploitation of children for financial gain, according to an announcement in October from the Norwegian Nobel Committee. In announcing the award, the committee praised Yousafzai for demonstrating that "children and young people, too, can contribute to improving their own situations." It noted...
»
Rotary's world headquarters hosts evanston rotary day
- Business owners and community leaders in Evanston, Illinois, USA, joined Rotary staff and family members in a celebration of the organization's cultural diversity at an open-house Rotary Day event at Rotary's world headquarters on 25 October. Rotary President Gary C.K. Huang is urging clubs and districts to hold these informal events to showcase Rotary's good work. The open house was held immediately after Evanston's Day of Caring, during which volunteers planted trees, fixed up buildings, performed yard work, painted, and participated in other community projects throughout the city. Visit...
»
Young rotary leaders exchange ideas at two-day summit
- A two-day Young Professionals Summit, held in Chicago in September, gave 32 Rotary leaders ages 25 to 40 the opportunity to share their thoughts about their Rotary experiences, reflect on their stories, and exchange ideas. Although there are many young leaders within Rotary's global community, there are few opportunities for them to connect with other young professionals and to add their voices to the discussion. The aim of the Young Professionals Summit was to engage participants in open and candid discussions about what's working now in Rotary, ideas for improvements, and ways to extend...