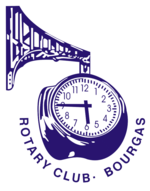 Ротари Клуб Бургас, Дистрикт 2482 България
Ротари Клуб Бургас е един от трите най-стари клуба на РОТАРИ в България.
Ротари Клуб Бургас е създаден през 1937-ма година.
През 1941 година прекратява дейността си.Ротари клуб Бургас е възстановен през 1991 година.
Ротари Интернешънъл – най-старата организация с идеална цел има представителства в почти всички страни в света. Членовете на РОТАРИ се подбират сред лидерите в бизнеса и професиите. Ротарианците доброволно отдават време и умения в службана обшеството. Мотото на Ротари Service Above Self (За безкористна служба) въплъщава хуманния дух на неговите членове. Дружбата между ротарианците и значимите обществени и международни проекти са характерни за Ротари в целия свят.
Елект президент и борд 2011-2012
Елект президент на РК Бургас - Илко Бонев (президент 2012-2013).
Борд 2011-2012: Секретар Мария Хаджипетрова, Вицепрезидент Иван Данев, Церемониалмайстор Веселин Пренеров, Ковчежник Любомир Георгиев.
Президент (избран преди 1 година) ще е Герхард Бенциен.
Пастпрезидент (настоящият президент) Стефко Русев.
Новини от Rotary International
»
Meet rotary's new president
- This excerpt from the July issue of The Rotarian magazine profiles the 2015-16 RI president. Before he gives a speech, K.R. Ravindran doesn't like flowery, adulatory introductions. They make him uncomfortable. The 2015-16 Rotary president would rather keep a low profile and share the credit. If it were up to him, you probably wouldn't even be reading this article. Negotiating Days of Tranquility during the Sri Lankan civil war so that health workers could administer drops of polio vaccine? Although it was on his desk that the agreement landed, he says, a lot of people worked to make that...
»
Apply to serve on an ri committee
- If you would you like to contribute to Rotary by serving on a committee, this is your opportunity. The nine committees listed below are searching for qualified candidates for openings in 2016-17. Each of these committee works with Rotary leaders to increase efficiency and promote the goals and priorities of our strategic plan. To be considered for a committee appointment, go to www.tinyurl.com/ri-committee-application for an application form. The application deadline is 20 August. Learn more about the committees and the application process. Get answers to frequently asked questions....
»
Early cancer detection is saving lives in sri lanka
- More than 20,000 new cases of cancer are diagnosed every year in Sri Lanka, and many of them prove fatal. The Rotary Club of Colombo, Sri Lanka, set out 10 years ago to save some of those lives by establishing the Cancer Prevention and Early Detection Centre.В  In partnership with the National Cancer Control Programme and the Ministry of Health, the center in Colombo has screened more than 35,000 patients, mostly low-income, and detected more than 7,500 cases of abnormalities that required further investigation. The Rotary Club of Birmingham, Alabama, USA, donated a mammography and ultrasound...
»
Visit our new member center
- As a member of Rotary, you're part of a global network of community volunteers who are making a positive difference. Visit the new Member Center to access the many benefits and resources available to you, including: Rotary Global Rewards, our brand-new member benefits program featuring discounts on travel, hotels, dining, and entertainment Rotary publications and products, licensed vendors, mobile apps, and online tools Awards and donor recognition opportunities Rotary International Convention, our biggest event of the year The Rotarian, the official magazine of Rotary Share the benefits of...
»
Rotary releases $40.3 million for polio immunization activities
- Rotary is releasing $40.3 million in grants to support polio immunization activities in 10 countries, including Afghanistan, Nigeria, and Pakistan, three countries where the disease has never been stopped. The funds will help build on gains Rotary and its partners have been making in the fight to eradicate polio. Nigeria hasn't seen a polio case since 24 July 2014 and the World Health Organization could remove it from the list of polio-endemic countries as soon as September if no cases are reported. Nigeria would have to go another two years without a case to be certified polio-free. But the...
»
Knocking down language barriers
- Before the collapse of the Soviet Union in the early 1990s, Russian was the predominant second language offered in Polish schools, leaving tens of thousands of Polish emigrants without the English skills they needed.   That has changed over the last 25 years. English proficiency drastically improved after the government reformed its education system in 1991. The country overhauled its teaching curriculum and materials and introduced English as the primary foreign language. As of 2013, Poland ranks 8th in the world in English proficiency. However, one segment of the population isn't reaping...
»
Member benefits program unveiled as convention draws to a close
- RI President-elect K.R. Ravindran introduced a member benefits program at the 9 June closing session of the 2015 Rotary International Convention, saying that many more hands are needed to continue Rotary's work around the world. The program, Rotary Global Rewards, aims to boost membership and enhance member satisfaction. It will debut on 1 July. "This innovative new program will allow Rotary members to connect with hundreds of businesses and service providers from around the world -- and that number is growing," said Ravindran. "These establishments will offer Rotarians discounts and...
»
Africa on brink of polio eradication
- Nigeria and the whole continent of Africa is on the cusp of being polio free, Dr. Hamid Jafari told audience members at the Rotary Convention on 8 June in São Paulo, Brazil. Between 2013 and 2014, the reported cases of polio dropped from 53 to just six in Nigeria. Even more encouraging, said Jafari, is that the last case of polio in Nigeria was reported in July of last year and the last case in all of Africa was reported in Somalia in August. "With a year of no polio cases in Nigeria tantalizingly close, and no cases in Somalia since August, the tireless work of so many people across the...
»
Alumni award winner helps others overcome mental illness, speaks at rotary convention
- Dr. Geetha Jayaram has dedicated her life to helping people in her native India and the United States overcome the torment of severe depression, bipolar disorder, panic attacks, and other mental illnesses. Jayaram is a psychiatrist and associate professor at the Johns Hopkins School of Medicine and the Armstrong Institute for Patient Safety and Quality. Her work expanding access to mental health services is much needed. Depression affects at least 350 million people and is the leading cause of disability worldwide, according to the World Health Organization. "In India, there is no mental...
»
Water summit urges rotary members to invest in youth
- Almost 200 million days of school attendance are lost every year because of the lack of proper sanitation. Many  diarrhea cases in children result from transmission of disease in schools rather than at home. "A school is a place where children should feel safe, not a place where they are susceptible to infection," says Lizette Burgers, senior adviser of UNICEF's Water Sanitation and Hygiene (WASH) in Schools program. But the message at the World Water Summit on 4 June in São Paulo was positive: Rotary members and their clubs can make schools healthier places through programs that provide...