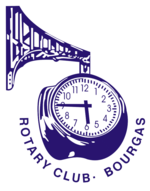 –отари  луб Ѕургас, ƒистрикт 2482 Ѕългари€
–отари  луб Ѕургас е един от трите най-стари клуба на –ќ"ј–» в Ѕългари€.
–отари  луб Ѕургас е създаден през 1937-ма година.
ѕрез 1941 година прекрат€ва дейността си.–отари клуб Ѕургас е възстановен през 1991 година.
–отари »нтернешънъл Ц най-старата организаци€ с идеална цел има представителства в почти всички страни в света. "леновете на –ќ"ј–» се подбират сред лидерите в бизнеса и професиите. –отарианците доброволно отдават време и умени€ в службана обшеството. ћотото на –отари Service Above Self («а безкористна служба) въплъщава хуманни€ дух на неговите членове. ƒружбата между ротарианците и значимите обществени и международни проекти са характерни за –отари в цели€ св€т.
≈лект президент и борд 2011-2012
≈лект президент на –  Ѕургас - »лко Ѕонев (президент 2012-2013).
Ѕорд 2011-2012: —екретар ћари€ 'аджипетрова, ¬ицепрезидент »ван ƒанев, ÷еремониалмайстор ¬еселин ѕренеров,  овчежник Ћюбомир √еоргиев.
ѕрезидент (избран преди 1 година) ще е √ерхард Ѕенциен.
ѕастпрезидент (насто€щи€т президент) —тефко –усев.
Ќовини от Rotary International
»
How a simple school project in india became a global grant
- Two years ago, U.S. Rotary members in Maine set out to improve the education system in Bikaner, Rajasthan, an Indian city near the border of Pakistan. The Rotary Club of Kennebunk Portside chose Bikaner because club member Rohit Mehta was originally from the area and had connections there. Mehta put the club in contact with Rotarians in India to provide desks for four government-run schools. But when community leaders returned with a request for more desks, the Maine Rotarians decided they had to think bigger. The Rotary Foundation had rolled out its new grant model, which required that the...
»
Korean sailor makes waves for end polio now
- Enjoying calm winds and peaceful Pacific waters, Seung Jin Kim dove off his 43-foot sailboat, the Arapani, to swim with some dolphins nearby. The serenity that day near the equator was a stark contrast to the 60 mph winds and 23-foot waves he had to fight around Cape Horn, the southern tip of South America. But Kim, a veteran sailor and member of the Rotary Club of Seokmun, in Chungcheongnam, Korea, expected such challenges when he set out in mid-October on a 25,600-mile journey around the world. In addition to fulfilling a lifelong dream, Kim is using the trip to raise awareness and funds...
»
Monrovia clubвАЩs ebola fight not finished
- After the first cases of Ebola reached Liberia's capital, Monrovia, last June, local Rotary members feared that the city's limited health care system wouldn't be able to contain the highly infectious, often-deadly disease. Those fears were realized when infections quickly multiplied, underscoring the speed with which Ebola can spread in an urban center. It was the first time the hemorrhagic fever had threatened a major city since it erupted in West Africa last March. Now, after months of crisis-level response, and with the number of new cases declining, club members are looking to the long...
»
Rotary member takes fundraising to new heights -- the summit of mount everest
- Despite his longstanding interest in polio eradication, polio was not on Joe Pratt's mind as he prepared for a mid-April 2012 climb of Mount Everest, the highest mountain on earth. But that changed in late 2011, when the resident of Nottingham, New Hampshire, USA, participated in a polio immunization project in Pakistan with fellow Rotary member Steve Puderbaugh. Moved by the efforts of the Pakistanis to battle the crippling disease, and by the vulnerability of the young victims, Pratt reset the focus of his climbing adventure. Pakistan is one of three countries where polio has never been...
»
San francisco club reveals formula for growth and retention of members
- Members of the Rotary Club of San Francisco Evening meet at a wine bar after work, share a social outing, and promote all their activities on social media like Meetup and Facebook. As the first evening club in the city, it has attracted many young professionals from Silicon Valley tech firms whose work schedules keep them from joining a more traditional club that meets for breakfast or lunch. But more than that, the evening format has helped the club grow by 30 percent since it received its charter in mid-2013. Danielle Lallement, who was its charter president, says the club has been...
»
Colorado joins kosovo club to restore sanitation in blighted local schools
- Blighted schools in the mountain city of Peja in western Kosovo are a reminder of the ethnic strife and war that ravaged this area in the 1990s. To restore ruined sanitation facilities in some of those schools, local Rotary members recently partnered with their counterparts from Colorado, USA. Though residents have been slowly rebuilding the city's infrastructure after years of neglect under earlier governments, most resources are going to improve roads, rebuild homes, and create new businesses. Little money remains to restore the schools. As a result, students have fallen ill, stayed home...
»
Rotary releases $34.8 million for polio immunization activities worldwide
- Rotary International released an additional $34.8 million in grants to support polio immunization activities in 10 countries, including Afghanistan, Nigeria, and Pakistan, the three countries where the disease has never been stopped. The funds, whose release was announced 20 January, will be used by the World Health Organization and UNICEF for polio immunization and surveillance activities in the 10 countries, as well as to provide technical assistance in several other countries in Africa. The grants include $8.1 million for Nigeria to support its final push to eradicate the disease. Nigeria...
»
President-elect urges rotary members to вАШbe a gift to the worldвАЩ
- Using their talents, expertise, and leadership, Rotary members worldwide are asked to be gifts to the world this upcoming 2015-16 Rotary year. Rotary International President-elect K.R. "Ravi" Ravindran called Sunday's address to incoming district governors the "most significant moment of my life." "All of you have been given so many gifts. And you have now been given this great gift: one year to take all your talents, all your gifts, everything that you are and can become -- and Be a Gift to the World," said Ravindran, revealing his presidential theme at the annual five-day training meeting...
»
Alumni recognized for expanding mental health services and supporting rotaryвАЩs work
- Dr. Geetha Jayaram has dedicated her life to helping people in her native India and the United States overcome the torment of severe depression, bipolar disorder, panic attacks, and other mental illnesses. Jayaram is a psychiatrist and associate professor at the Johns Hopkins School of Medicine and the Armstrong Institute for Patient Safety and Quality. Her work expanding access to mental health services is much needed. Depression affects at least 350 million people and is the leading cause of disability worldwide, according to the World Health Organization. "In India, there is no mental...
»
RotaryвАЩs innovative tribute to polio eradication in india breaks guinness world record
- To eradicate polio in India, Rotary members displayed impressive coordination and commitment. So it should come as no surprise that Rotary members in Chennai, Tamil Nadu, were able to mobilize more than 40,000 people to create the world's largest human national flag. The tribute to the polio eradication effort qualified as a Guinness World Records-breaking achievement. "What impressed me most was that all of Rotary was represented: Rotaractors, Interactors, and Rotarians," says RI President Gary C.K. Huang, who participated in the event along with his wife, Corinna, and other Rotary senior...