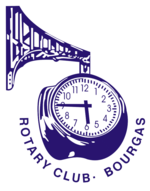 –отари  луб Ѕургас, ƒистрикт 2482 Ѕългари€
–отари  луб Ѕургас е един от трите най-стари клуба на –ќ"ј–» в Ѕългари€.
–отари  луб Ѕургас е създаден през 1937-ма година.
ѕрез 1941 година прекрат€ва дейността си.–отари клуб Ѕургас е възстановен през 1991 година.
–отари »нтернешънъл Ц най-старата организаци€ с идеална цел има представителства в почти всички страни в света. "леновете на –ќ"ј–» се подбират сред лидерите в бизнеса и професиите. –отарианците доброволно отдават време и умени€ в службана обшеството. ћотото на –отари Service Above Self («а безкористна служба) въплъщава хуманни€ дух на неговите членове. ƒружбата между ротарианците и значимите обществени и международни проекти са характерни за –отари в цели€ св€т.
≈лект президент и борд 2011-2012
≈лект президент на –  Ѕургас - »лко Ѕонев (президент 2012-2013).
Ѕорд 2011-2012: —екретар ћари€ 'аджипетрова, ¬ицепрезидент »ван ƒанев, ÷еремониалмайстор ¬еселин ѕренеров,  овчежник Ћюбомир √еоргиев.
ѕрезидент (избран преди 1 година) ще е √ерхард Ѕенциен.
ѕастпрезидент (насто€щи€т президент) —тефко –усев.
Ќовини от Rotary International
»
Intense summer program gives israeli and palestinian teens new perspectives
- Students from Israel and Palestine sat together at a local art studio in Encinitas, California, USA, one day last summer, drawing portraits of one another and learning how to live in peace. Kelly Mellos, an organizer of the project from the Rotary Club of Encinitas Coastal, says that drawing someone who is sitting so close helps break down social barriers between the young people. "They see how many similarities there are between them," she says. "And they begin to understand we are all just people. There is a respect and trust that builds." The students were participating in a program run by...
»
Rotary releases $34.8 million for polio immunization activities worldwide
- Rotary International released an additional $34.8 million in grants to support polio immunization activities in 10 countries, including Afghanistan, Nigeria, and Pakistan, the three countries where the disease has never been stopped. The funds, whose release was announced 20 January, will be used by the World Health Organization and UNICEF for polio immunization and surveillance activities in the 10 countries, as well as to provide technical assistance in several other countries in Africa. The grants include $8.1 million for Nigeria to support its final push to eradicate the disease. Nigeria...
»
President-elect urges rotary members to вАШbe a gift to the worldвАЩ
- Using their talents, expertise, and leadership, Rotary members worldwide are asked to be gifts to the world this upcoming 2015-16 Rotary year. Rotary International President-elect K.R. "Ravi" Ravindran called Sunday's address to incoming district governors the "most significant moment of my life." "All of you have been given so many gifts. And you have now been given this great gift: one year to take all your talents, all your gifts, everything that you are and can become -- and Be a Gift to the World," said Ravindran, revealing his presidential theme at the annual five-day training meeting...
»
Man in iron lung discovers rotary
- One might think a man living with polio in an iron lung would know about Rotary. But it wasn't until Paul Alexander had a business meeting with a member in Duncanville, Texas, earlier this year that he learned Rotary fights to eradicate the very disease that left him almost completely paralyzed. "I was completely blown away by the idea. For all these years, I didn't know the work they were doing," says Alexander, a practicing attorney in Dallas. "It's such a perfect fit for me." Alexander contracted polio during a major U.S. outbreak of the disease in the late 1950s when he was six years old...
»
Alumni recognized for expanding mental health services and supporting rotaryвАЩs work
- Dr. Geetha Jayaram has dedicated her life to helping people in her native India and the United States overcome the torment of severe depression, bipolar disorder, panic attacks, and other mental illnesses. Jayaram is a psychiatrist and associate professor at the Johns Hopkins School of Medicine and the Armstrong Institute for Patient Safety and Quality. Her work expanding access to mental health services is much needed. Depression affects at least 350 million people and is the leading cause of disability worldwide, according to the World Health Organization. "In India, there is no mental...
»
RotaryвАЩs innovative tribute to polio eradication in india breaks guinness world record
- To eradicate polio in India, Rotary members displayed impressive coordination and commitment. So it should come as no surprise that Rotary members in Chennai, Tamil Nadu, were able to mobilize more than 40,000 people to create the world's largest human national flag. The tribute to the polio eradication effort qualified as a Guinness World Records-breaking achievement. "What impressed me most was that all of Rotary was represented: Rotaractors, Interactors, and Rotarians," says RI President Gary C.K. Huang, who participated in the event along with his wife, Corinna, and other Rotary senior...
»
Ntv interviews rotary general secretary john hewko
- RI General Secretary John Hewko met with NTV Kenya for a wide-ranging interview about what makes Rotary unique and why it's one of the world's most respected service organizations. "Rotary in many ways is a great example of how countries could operate," Hewko said. "We are overtly nonpolitical, nonreligious. There's a culture within Rotary of everybody being equal. And when you join Rotary, you buy into the philosophy of peace and understanding." Watch the video above (English only).
»
Kids in kenya are ending violent mistrust between tribes
- For decades, the small, pastoral communities in northern Kenya have been caught in a cycle of violence. Tribes have shed blood over distrust, scarce resources, and the theft of livestock. Rotary Scholar Monica Kinyua founded the Children Peace Initiative (CPI) Kenya with her twin sister, Jane Wanjiru, to end the fighting by building friendships between children from different tribes. Earlier this year, the sisters used a global grant sponsored by Rotary members in San Diego, California, and the Rotary Club of Nairobi to conduct a peace camp for children in Baragoi, Samburu County, one of the...
»
Rotary aids day event turns spotlight on worldвАЩs deadliest infectious disease
- The recent Ebola outbreak in West Africa, the worst ever, has claimed several thousand lives and generated worldwide concern. But its impact pales in comparison to that of AIDS, which, despite advances in treatment, still kills more than a million people a year, the majority of them in Africa. "Even with the Ebola outbreak at its worst expected levels, it's never going to reach what we've seen with the HIV/AIDS epidemic," said Dr. Timothy B. Erickson, director of the Center for Global Health at the University of Illinois at Chicago, speaking at Rotary's World AIDS Day event in Evanston on 1...
»
Statement by rotary international on the deadly school attack in pakistan
- Rotary International condemns the horrific attack that killed more than 130 schoolchildren and wounded over 100 of their classmates in Peshawar, Pakistan. We believe that children everywhere have the basic right to receive an education in an environment unthreatened by violence or fear. Rotary extends our heartfelt sympathy to all of the families in Pakistan, including those of seven Rotary members, who have lost children as a result of this unfathomable tragedy. We stand with them in mourning their loss. Gary C.K. Huang, PresidentRotary International