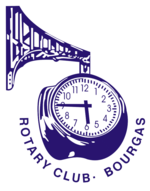 Ротари Клуб Бургас, Дистрикт 2482 България
Ротари Клуб Бургас е един от трите най-стари клуба на РОТАРИ в България.
Ротари Клуб Бургас е създаден през 1937-ма година.
През 1941 година прекратява дейността си.Ротари клуб Бургас е възстановен през 1991 година.
Ротари Интернешънъл – най-старата организация с идеална цел има представителства в почти всички страни в света. Членовете на РОТАРИ се подбират сред лидерите в бизнеса и професиите. Ротарианците доброволно отдават време и умения в службана обшеството. Мотото на Ротари Service Above Self (За безкористна служба) въплъщава хуманния дух на неговите членове. Дружбата между ротарианците и значимите обществени и международни проекти са характерни за Ротари в целия свят.
Елект президент и борд 2011-2012
Елект президент на РК Бургас - Илко Бонев (президент 2012-2013).
Борд 2011-2012: Секретар Мария Хаджипетрова, Вицепрезидент Иван Данев, Церемониалмайстор Веселин Пренеров, Ковчежник Любомир Георгиев.
Президент (избран преди 1 година) ще е Герхард Бенциен.
Пастпрезидент (настоящият президент) Стефко Русев.
Новини от Rotary International
»
Nigeria reclassified as polio endemic
- Nigeria reported three cases of wild poliovirus in the northeastern state of Borno in August of this year. Following the World Health Organization's confirmation of these cases, the country returned to the list of polio-endemic countries. The other polio-endemic countries are Afghanistan and Pakistan. These are the first cases detected in the country since July 2014, and while this news is disappointing for all Rotary members, we are confident that Nigeria can defeat polio. Rotary provided $500,000 to assist immediately with the outbreak response, and an emergency response plan has been put...
»
Rotary recognized on public television's 'american graduate day'
- Rotary was recognized on 17 September on public television's fifth annual American Graduate Day program for its work with San Diego-based Monarch School, a K-12 school for homeless youth. The Rotary Club of San Diego, California, USA, was applauded for its work mentoring Monarch's students, keeping them on track to graduate, and helping the school to continue thriving during tough economic times. Monarch School CEO Erin Spiewak appeared as one of the show's guests, along with Monarch Alumnus Cynthia Valenzuela, who attested to the positive, life-changing experience Monarch School gave her and...
»
Practicing peace
- Nations around the world will observe the International Day of Peace on 21 September, a date designated by the United Nations in 2001 as "a day of global ceasefire and nonviolence." Rotary's commitment to building peace and resolving conflict is rooted in the Rotary Peace Centers program, formed in 2002. Each year, the program prepares up to 100 fellows to work for peace through a two-year master's degree program or a three-month professional certificate program at university partners worldwide. Today, nearly 1,000 peace centers alumni are applying their skills — negotiating peace in conflict...
»
Charity navigator upgrades rotary foundation's rating
- The Rotary Foundation has received the highest possible score from Charity Navigator, an independent evaluator of charities in the U.S. In the most recent ratings, released on 1 September, The Rotary Foundation earned the maximum 100 points for both financial health and accountability and transparency. The ratings reflect how efficiently Charity Navigator believes the Foundation will use donations, how well it has sustained programs and services, and its level of commitment to good governance and openness. In the previous rating, the Foundation had received 97 points.
»
Ebay live auctions that benefit rotary
- Each month, eBay, the world's largest auction website, selects a set of upcoming Live Auction events and donates a portion of all sales proceeds to Rotary. Only U.S. auction sales are eligible. See the schedule of September auctions.
»
Rotary district collecting relief funds for louisiana flood victims
- Rotary clubs of District 6200 are collecting relief funds to help thousands of victims after record flooding devastated communities in southern Louisiana, USA, earlier this month. Torrential rains caused rivers, streams, and bayous to swell, damaging or destroying more than 60,000 homes and killing at least 13 people. The U.S. Coast Guard and emergency responders helped rescue more than 30,000 residents from the rising flood waters. As of 25 August, more than 3,000 residents were still in emergency shelters even after the water receded. Donate to District 6200 disaster relief fund.
»
Hall of fame singer donovan becomes a rotary polio ambassador
- Legendary singer and polio survivor Donovan Leitch, better known simply as Donovan, has joined Rotary in its fight to eradicate the paralyzing disease that afflicted him during much of his childhood. Donovan contracted polio at age three in Glasgow, Scotland. The disease weakened his right leg and left it thinner and shorter than the other. Confined to his bed for much of his childhood, the Rock and Roll Hall of Fame singer said his father would read him poetry. In a recent interview with the Daily Express, Donovan said that listening to poetry piqued his interest in creative writing. "If I...
»
World polio day toolkit available — start planning now
- Rotary's fourth World Polio Day celebration, on 24 October, will highlight extraordinary progress in the eradication campaign and emphasize the work that remains before we wipe out the virus for good. With the number of new cases worldwide nearly halved from this time last year, we have the opportunity to rally our resources and see the last case of polio this year. Health officials and Rotary's celebrity polio ambassadors will head to Atlanta, Georgia, USA, for the event, the first to be held at the U.S. Centers for Disease Control and Prevention (CDC). It will be streamed live and then will...
»
Young member uses leadership positions to promote diversity, inclusion
- The way Rotary member Todd Jenkins puts it, he's the first generation in his family "to do everything": first to go to college, first to fly on a plane, first to visit another country, and the first to live across state lines. Jenkins, 28, grew up in a low-income neighborhood in Columbia, South Carolina, USA. His family worked hard just to make ends meet. So travel and college seemed out of reach. The eldest of ten children, Jenkins says his goal was to break out of the family status quo and set a positive example for his siblings. He credits his mother with helping him avoid falling into the...
»
Rotary recommits to ending polio in nigeria
- The World Health Organization has confirmed two cases of wild poliovirus type 1 (WPV1) in Nigeria, the first cases in the country since July 2014. After passing a year without a case of the wild poliovirus, Nigeria was removed from the list of polio-endemic countries in September 2015. These cases – from two local government areas of Borno state – occurred in July 2016. The Government of Nigeria – in partnership with the Global Polio Eradication Initiative – will take immediate steps to respond quickly to the outbreak to prevent further spread of the disease. This response will include...