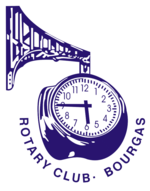 Ротари Клуб Бургас, Дистрикт 2482 България
Ротари Клуб Бургас е един от трите най-стари клуба на РОТАРИ в България.
Ротари Клуб Бургас е създаден през 1937-ма година.
През 1941 година прекратява дейността си.Ротари клуб Бургас е възстановен през 1991 година.
Ротари Интернешънъл – най-старата организация с идеална цел има представителства в почти всички страни в света. Членовете на РОТАРИ се подбират сред лидерите в бизнеса и професиите. Ротарианците доброволно отдават време и умения в службана обшеството. Мотото на Ротари Service Above Self (За безкористна служба) въплъщава хуманния дух на неговите членове. Дружбата между ротарианците и значимите обществени и международни проекти са характерни за Ротари в целия свят.
Елект президент и борд 2011-2012
Елект президент на РК Бургас - Илко Бонев (президент 2012-2013).
Борд 2011-2012: Секретар Мария Хаджипетрова, Вицепрезидент Иван Данев, Церемониалмайстор Веселин Пренеров, Ковчежник Любомир Георгиев.
Президент (избран преди 1 година) ще е Герхард Бенциен.
Пастпрезидент (настоящият президент) Стефко Русев.
Новини от Rotary International
»
Convention: city of peace
- Though Atlanta has seen its share of violence and inequity over time, today it brims with reminders that there is another way. Get inspired while you're visiting for the 2017 Rotary International Convention from 10 to 14 June. Take a short walk from the convention center to the Center for Civil and Human Rights. There, you can see the handwritten notes, speeches, and sermons of civil rights leader Martin Luther King Jr., experience an interactive 1960s-era lunch counter "sit-in," and learn more about persecuted groups all over the world. A streetcar will take you to the Martin Luther King Jr...
»
The rotary foundation ranked in list of top charities
- CNBC has ranked The Rotary Foundation No. 3 in its annual list of Top 10 Charities Changing the World in 2016. The list includes some of the largest and highest-rated charities that help women, children, the poor, and the environment throughout the world, according to Charity Navigator, and that maintain high standards of financial health, accountability, and transparency of reporting. The Foundation was noted for connecting 1.2 million members from more than 200 geographic areas to tackle the world's most pressing humanitarian challenges, including projects that focus on disease prevention,...
»
Rotarians report email scam
- Some Rotarians have reported receiving a scam email asking them to click a link to update names and contact information in a directory. The email, which stems from a gmail account, is not from Rotary.
»
Arch klumph's hometown raises over $2 million through centennial celebration
- Rotary members in Cleveland, Ohio, USA, celebrated 100 years of The Rotary Foundation on 23 October with a banquet and a concert by The Cleveland Orchestra that have so far raised more than $2.1 million for the Foundation's next century of good work. Arch Klumph, a Cleveland Rotarian, planted the seed for The Rotary Foundation in 1917, with his idea of having an endowment fund dedicated to "doing good in the world." Today's District 6630 leaders thought that a concert was a fitting way to honor Klumph and mark the centennial because of Klumph's love of music. Klumph performed in several...
»
Rotary's world polio day event continues to grow
- Participation in this year's World Polio Day live-streamed event continued the growth registered since it began in 2014. Rotary, the world's leading advocacy organization on polio eradication, held this year's program on 24 October at the headquarters of the U.S. Centers for Disease Control and Prevention (CDC) in Atlanta, Georgia, USA. The event brought some of the biggest names in the campaign together to highlight the progress that has been made and to discuss what further action is needed to end the disease for good. Here is a summary of this year's World Polio Day event, by the numbers:...
»
Rotary foundation named world's outstanding foundation for 2016
- The Association of Fundraising Professionals has recognized The Rotary Foundation with its annual Award for Outstanding Foundation. The award honors organizations that show philanthropic commitment and leadership through financial support, innovation, encouragement of others, and involvement in public affairs. Some of the boldest names in American giving — Kellogg, Komen, and MacArthur, among others —are past honorees. "We are honored to receive this recognition from the AFP, which gives us even more reason to celebrate during our Foundation's centennial year," says Rotary Foundation Trustee...
»
Rotary-un celebration mixes business with diplomacy
- Outside the United Nations building in midtown Manhattan stands an imposing sculpture of a man wielding a sword in one hand and raising a hammer with the other. It reflects a shared goal that Rotary and the United Nations celebrated at the organizations' annual meeting on Saturday, 12 November: to use our strengths and tools to build a more peaceful and just world. The theme of this year's Rotary Day at the United Nations, "Responsible Business, Resilient Societies," emphasizes Rotary's role as a global network of business leaders using the tools of their trades to build stronger, more...
»
Ebay live auctions that benefit rotary
- Each month, eBay, the world's largest auction website, selects a set of upcoming Live Auction events and donates a portion of all sales proceeds to Rotary. Only U.S. auction sales are eligible. See the schedule of November auctions.
»
2016 interact video awards now open
- Show us your Interact club in action and you could receive $500 for your club's next project. For our eighth annual Interact Video Awards, we're asking Interact clubs to create a short video (30 seconds to three minutes) showing one of the following: If Interactors ruled the world — Imagine a world where Interactors are in charge, making big decisions that shape our world and future. How would Interactors transform the world for good? Sustainable Development Goals — The United Nations' Sustainable Development Goals include ending poverty, protecting our planet, and ensuring prosperity for all...
»
Sewing skills ease job woes in kwazulu-natal
- While the picturesque Valley of 1,000 Hills outside Durban, South Africa, offers stunning scenery to visitors, job prospects for the Zulu people who live on tribal land there are bleak. Three years ago, the nearby Rotary Club of Hillcrest addressed the unemployment rate by partnering with Embocraft, a skills training group serving the province of KwaZulu-Natal. The group offers classes in sewing, computers, textiles, welding, and woodwork, with the goal of alleviating poverty. Hillcrest Rotarians have co-sponsored four sewing courses, each lasting 15 sessions, for Zulu seniors or others who...