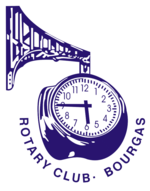 Ротари Клуб Бургас, Дистрикт 2482 България
Ротари Клуб Бургас е един от трите най-стари клуба на РОТАРИ в България.
Ротари Клуб Бургас е създаден през 1937-ма година.
През 1941 година прекратява дейността си.Ротари клуб Бургас е възстановен през 1991 година.
Ротари Интернешънъл – най-старата организация с идеална цел има представителства в почти всички страни в света. Членовете на РОТАРИ се подбират сред лидерите в бизнеса и професиите. Ротарианците доброволно отдават време и умения в службана обшеството. Мотото на Ротари Service Above Self (За безкористна служба) въплъщава хуманния дух на неговите членове. Дружбата между ротарианците и значимите обществени и международни проекти са характерни за Ротари в целия свят.
Елект президент и борд 2011-2012
Елект президент на РК Бургас - Илко Бонев (президент 2012-2013).
Борд 2011-2012: Секретар Мария Хаджипетрова, Вицепрезидент Иван Данев, Церемониалмайстор Веселин Пренеров, Ковчежник Любомир Георгиев.
Президент (избран преди 1 година) ще е Герхард Бенциен.
Пастпрезидент (настоящият президент) Стефко Русев.
Новини от Rotary International
»
Interact club's winning video highlights scope of youth service in rotary
- For the second time in three years, the Interact Club of Hugh Boyd Secondary School in Richmond, British Columbia, Canada, took the $500 grand prize in the annual Interact video contest, beating 88 entries from 33 countries. The secret to the club's success isn't just the professional quality of the videos but the stories behind them, says club member Kyle Gomes, who was the director, cinematographer, and editor for this year's three-minute entry, "Our Best Day in Interact." The video, narrated by several Interact members, shows the students decorating Christmas trees at Richmond's City Hall...
»
Historic moments: polioplus turns 30
- This year marks 30 years since Rotary launched PolioPlus, its campaign to rid the world of polio. Beginning on Rotary's anniversary, 23 February, Rotary members worldwide will be holding events to celebrate three decades of polio eradication progress. Since 1985 Rotary and its partners have helped reduce the number of cases from 350,000 annually to fewer than 400 in 2014, and they remain committed until the disease is eradicated. Rotary has contributed more than $1.3 billion and countless volunteer hours to protect more than 2 billion children worldwide. In addition, Rotary's advocacy efforts...
»
Rotary member takes fundraising to new heights -- the summit of mount everest
- Despite his longstanding interest in polio eradication, polio was not on Joe Pratt's mind as he prepared for a mid-April 2012 climb of Mount Everest, the highest mountain on earth. But that changed in late 2011, when the resident of Nottingham, New Hampshire, USA, participated in a polio immunization project in Pakistan with fellow Rotary member Steve Puderbaugh. Moved by the efforts of the Pakistanis to battle the crippling disease, and by the vulnerability of the young victims, Pratt reset the focus of his climbing adventure. Pakistan is one of three countries where polio has never been...
»
Bryn styles elected new rotary foundation trustee
- The RI Board of Directors elected Bryn Styles to serve the remaining term of Rotary Foundation Trustee Monty Audenart, who passed away on 21 January. Styles, a member of the Rotary Club of Barrie-Huronia in Ontario, Canada, will serve through 30 June 2017. His previous Rotary International positions include director, Council on Legislation representative, RI president's representative, and regional Rotary Foundation coordinator. Audenart joined Rotary in 1987 and was a member of the Rotary Club of Red Deer East in Alberta, Canada. Before taking on the trustee role, Audenart served Rotary as...
»
San francisco club reveals formula for growth and retention of members
- Members of the Rotary Club of San Francisco Evening meet at a wine bar after work, share a social outing, and promote all their activities on social media like Meetup and Facebook. As the first evening club in the city, it has attracted many young professionals from Silicon Valley tech firms whose work schedules keep them from joining a more traditional club that meets for breakfast or lunch. But more than that, the evening format has helped the club grow by 30 percent since it received its charter in mid-2013. Danielle Lallement, who was its charter president, says the club has been...
»
Enhance your leadership skills in the rotary learning center
- Professional development is right at your fingertips with the Rotary Learning Center, which offers members a range of interactive courses on navigating Rotary's online tools and developing leadership skills to prepare for new Rotary roles. Anyone with a My Rotary account can take a free course in the Learning Center. Among the many courses available are How to Run a Webinar, How to Propose Legislation, Rotary Club Central Resources, and role-specific selections. Get started by finding the Learning Center under the LEARNING & REFERENCE tab on Rotary.org. If you are already registered on...
»
Colorado joins kosovo club to restore sanitation in blighted local schools
- Blighted schools in the mountain city of Peja in western Kosovo are a reminder of the ethnic strife and war that ravaged this area in the 1990s. To restore ruined sanitation facilities in some of those schools, local Rotary members recently partnered with their counterparts from Colorado, USA. Though residents have been slowly rebuilding the city's infrastructure after years of neglect under earlier governments, most resources are going to improve roads, rebuild homes, and create new businesses. Little money remains to restore the schools. As a result, students have fallen ill, stayed home...
»
Applications now being accepted: pilot allows innovative and flexible approaches to running a club
- Is your club interested in trying new ways to find and keep members? Then it may be a good fit for the Innovative and Flexible Rotary Club pilot to experiment with variations on the traditional Rotary club structure. Applications are due 31 March. The RI Board of Directors invites up to 850 more clubs to take part in the pilot. Your club could try out ideas not currently allowed under the Standard Rotary Club Constitution, such as shared attendance with spouses, alternating between online and in-person meetings, or new leadership structures. For example, the Rotary Club of Toronto Sunrise, N....
»
Rotary's 2015 international assembly coverage and resources
- Rotary's annual training meeting gives incoming district governors from around the world the chance to share ideas for strengthening clubs and improving communities. Learn more about the program from our Rotary News coverage below. You can also view photos of the event, videos on the new presidential theme, Be a Gift to the World, and download resources to share with your club and district. News coverage President-elect urges Rotary members to 'Be a Gift to the World'Promoting membership with new ideas, even some that challenge traditionNew priorities, measurable goals to build Foundation's...
»
Watch for new club invoice coming to your mailbox
- The new club invoice is on its way to clubs around the world. Your invoice is based on your club's membership as of 1 January; no adjustments to this invoice should be necessary. Payment is due upon receipt but no later than 120 days. We hope you find the invoice easier to understand and more manageable than the old eight-part semiannual report. You can send questions or comments to clubfinance@rotary.org or contact your RI regional office. Find more information about the new invoice: How-to guidesFAQMembership dues